DataCore offers an enterprise-class high availability solution that is designed to avoid equipment and site outages from interrupting access to critical information flow. The goal is to deliver "zero downtime, zero touch" failover to maximize business continuity.
The cost-disruptive software, proven in over 10,000 global deployments, constantly mirrors data at high speeds between geographically separate locations. It keeps active-active copies synchronized even when using different types of storage devices at each end. Local and stretched/metro clusters perceive the independent, mirrored copies as a single set of data, simultaneously reachable from either location over redundant paths.
When problems prevent applications from reaching the data at one location, failover to the mirrored copy occurs instantaneously and automatically without disruption, scripting or manual intervention. Similarly, the built-in automation takes care of resynchronization and failback to normal operations after the original cause of the outage is resolved.
The comprehensive solution brings a common, integrated approach to continuous availability across the variety of applications, operating systems, hypervisors and storage hardware in place today and those to come in the future. Unlike competing products, DataCore works with the widest choice of storage devices, ranging from popular external arrays to direct-attached storage inside servers. Using existing and/or different storage devices on each side allows companies to avoid the expense of buying additional storage hardware.
DataCore customers surveyed by the independent research firm TechValidate report preventing 100% of storage-related downtime, both planned and unplanned; many for more than 8 years and counting. They also report up to 75% reduction in storage costs to achieve the necessary levels of business continuity.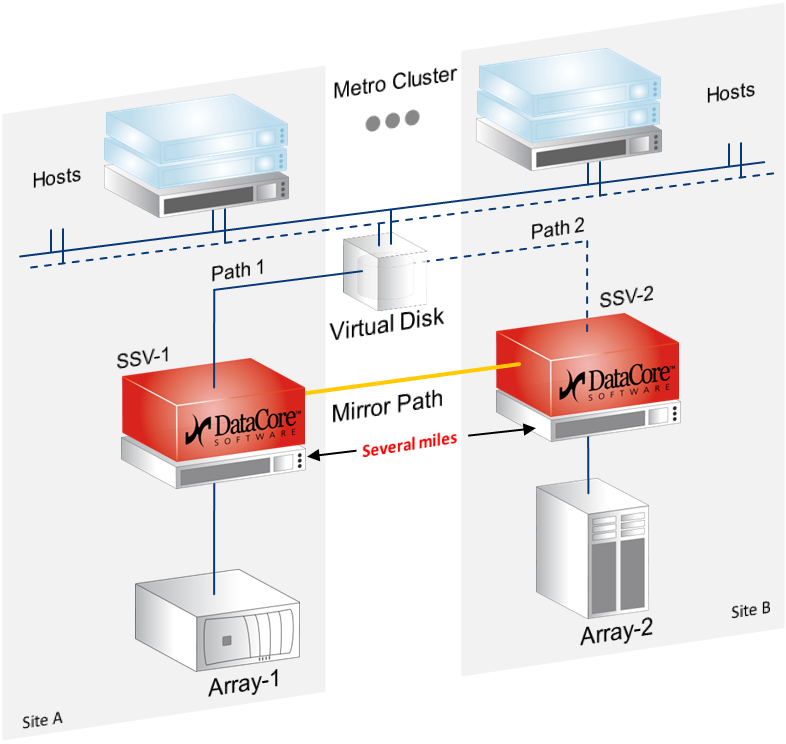 Active-active copies of data synchronously mirrored at high speeds between physically separate locations. In contrast with competing alternatives, no manual intervention or scripting is needed for failover, resynchronization or failback.
DataCore Hyperconverged Virtual SANの特徴
Maximize uptime with zero-touch failover and recovery for enterprise-class high availability
Mirrors data synchronously at high speeds between physically separate locations
No manual intervention or scripting needed for failover, resynchronization and failback
Prevents equipment and site outages, both planned or unplanned, from disrupting business operations
Enables uninterrupted data access from application and/or server clusters even during the loss of an entire site
Active-active mirrored copies at geographically separate sites appear as shared disks on redundant paths to local and metro clusters
Supports existing heterogeneous storage arrays and direct-attached storage
Offers the simplicity of fully autonomous nodes operating as a redundant N+1 grid, without the complexity, limitations and extra cost of clustered storage devices
Proven in over 10,000 global deployments
Get Started
Talk with a storage expert to learn how DataCore can help you achieve stress-free zero-downtime with its synchronous mirroring technology.