Full-Featured with Just 2 Nodes
Scale Out & Scale Up As Needed
Runs with Any x86 Hardware
Leverage External Storage for HCI
Comprehensive Data Services
Serve HCI Storage to Non-HCI Apps
In today's evolving technology landscape, managing different layers of the IT infrastructure is often complex and expensive and may require specialized skillsets for daily operations. With HCI, it is possible to merge the compute and storage layers of the IT stack into the simple form factor of x86 servers. This drives down costs drastically and simplifies administration.
DataCore SANsymphony allows you to cost-effectively create a resilient and compact HCI cluster, starting with 2 nodes, to ensure high availability for your mission-critical applications. Choose any standard x86 hardware and customize with your choice of components (server, hypervisor, CPU, RAM, network, SSDs, HDDs, etc.) – all with the ability to scale or adapt to future IT or business needs.
Is managing your IT infrastructure quite complex and laborious?
Are you finding it hard to adapt your IT infrastructure to meet changing requirements?
Is it challenging to cut down IT costs with your current setup?
Do you face difficulties ensuring adequate data services for your mission-critical applications?
Are you constrained by specific compatibility lists and vendor lock-ins?
Does your existing IT infrastructure design not align well with the needs of edge sites or remote branch offices?
Discover How SANsymphony Transforms Your IT Environment with the Power of HCI
主な利点
Enhanced data services: HA/DR, performance acceleration, Continuous Data Protection (CDP), etc.
Free choice of hardware and hypervisor to avoid vendor lock-in
Independently scale compute and storage, and expand granularly
Flexibility to change deployment without any impact to the applications
Allows for high VM density on HCI nodes
Leverage external storage for HCI clusters
Serve HCI storage to non-HCI applications
Fully featured HCI with just two nodes – no third instance needed

投資、電力、スペース、ライセンスコストを節約
FC経由のスイッチレス接続も可能
DCIG SOLUTION PROFILE
Find out why DataCore is selected as one of the Top 5 Vendors by DCIG for HCI Software Solutions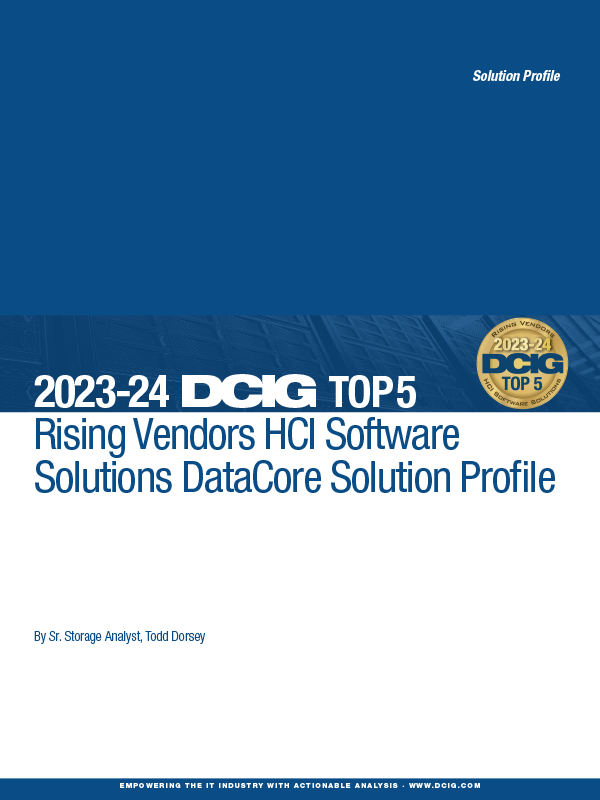 データサービス
DataCore SANsymphonyは、単一のコマンドやコントロールプレーンから多様なデバイス、モデル、デプロイメントで使用できるデータサービスを多数搭載しています。
*NFSおよびSMBアクセスは、Windowsファイルサーバを介してサポートされます ❘ ** クラウドストレージゲートウェイを使用
ソフトウェアディファインドブロックストレージであるSANsymphonyを使ってみましょう
ダウンタイムを回避。
優れたアプリパフォーマンス。
ストレージのTCOを最小化。
DataCoreソリューションの恩恵を受けている数千人のITプロフェッショナルに加わりましょう。
"DataCoreは間違いなく、ミッションクリティカルなアプリケーションの実行速度が向上する主な理由の1つです。SANsymphonyキャッシングとパフォーマンスアクセラレーション機能が重要な役割を果たしています。"