Full-Featured with Just 2 Nodes
Scale Out & Scale Up As Needed
Runs with Any x86 Hardware
Leverage External Storage for HCI
Comprehensive Data Services
Serve HCI Storage to Non-HCI Apps
In today's evolving technology landscape, managing different layers of the IT infrastructure is often complex and expensive and may require specialized skillsets for daily operations. With HCI, it is possible to merge the compute and storage layers of the IT stack into the simple form factor of x86 servers. This drives down costs drastically and simplifies administration.
DataCore SANsymphony allows you to cost-effectively create a resilient and compact HCI cluster, starting with 2 nodes, to ensure high availability for your mission-critical applications. Choose any standard x86 hardware and customize with your choice of components (server, hypervisor, CPU, RAM, network, SSDs, HDDs, etc.) – all with the ability to scale or adapt to future IT or business needs.
Is managing your IT infrastructure quite complex and laborious?
Are you finding it hard to adapt your IT infrastructure to meet changing requirements?
Is it challenging to cut down IT costs with your current setup?
Do you face difficulties ensuring adequate data services for your mission-critical applications?
Are you constrained by specific compatibility lists and vendor lock-ins?
Does your existing IT infrastructure design not align well with the needs of edge sites or remote branch offices?
Discover How SANsymphony Transforms Your IT Environment with the Power of HCI
Key Benefits
Enhanced data services: HA/DR, performance acceleration, Continuous Data Protection (CDP), etc.
Free choice of hardware and hypervisor to avoid vendor lock-in
Independently scale compute and storage, and expand granularly
Flexibility to change deployment without any impact to the applications
Allows for high VM density on HCI nodes
Leverage external storage for HCI clusters
Serve HCI storage to non-HCI applications
Fully featured HCI with just two nodes – no third instance needed

Saves investment, power, space, and license costs
Support switchless connectivity, also possible via FC
DCIG SOLUTION PROFILE
Find out why DataCore is selected as one of the Top 5 Vendors by DCIG for HCI Software Solutions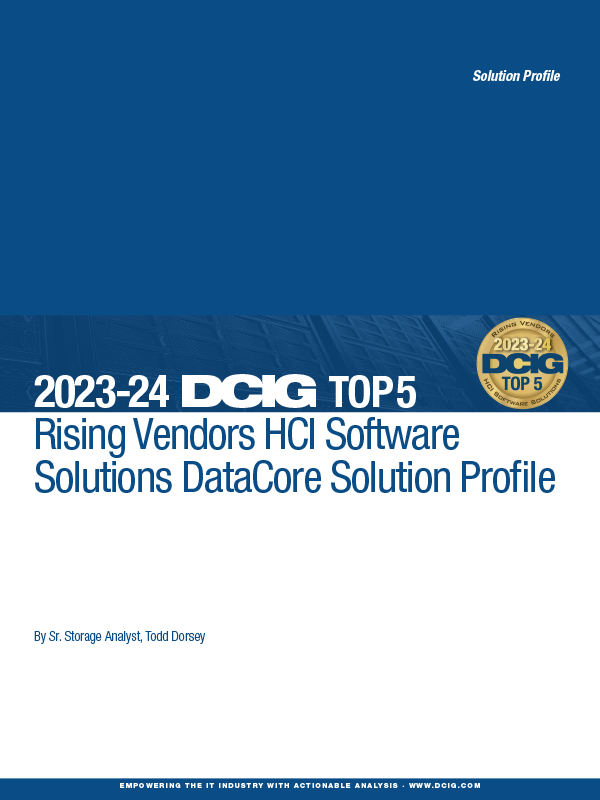 Data Services
DataCore SANsymphony ships with a host of data services that can be used across diverse devices, models and deployments from a single command and control plane.
*NFS AND SMB ACCESS IS SUPPORTED THROUGH WINDOWS FILE SERVER ❘ ** VIA CLOUD STORAGE GATEWAYS
Get Started with SANsymphony, Software-Defined Block Storage
No More Downtime.
Superior App Performance.
Low Storage TCO.
Join thousands of IT pros who have benefitted from DataCore solutions.
"DataCore is definitely one of the main reasons our mission-critical apps run faster; the SANsymphony caching and performance acceleration capabilities play a vital role."