As 2019 comes to an end, it's time to reflect on what the past year has meant for DataCore. We began the year with the considerable momentum generated in 2018, which included a number of exciting changes, and the introduction of the company's new leadership team – Dave Zabrowski, CEO, Gerardo Dada, CMO, and Rizwan Pirani, CPO. That year also brought a renewed channel commitment, greater marketing focus, new simple, capacity-based pricing model, even better customer support, and more. With this strong foundation in place, we charged into 2019 and made it one of the greatest years in DataCore history, with the launch of new products and services, all under our vision for the future of the storage industry.
Let's take a look back at some of the highlights of 2019:
In July, we announced DataCore ONE, our vision for storage infrastructure.  Designed to accelerate the adoption of software-defined storage (SDS) in enterprise data centers, the cloud, and edge computing, DataCore ONE centralizes command and control of different storage types and spans primary, secondary and archive storage tiers, all managed under a unified predictive analytics dashboard.
To help make this vision a reality, we announced the availability of several components including a flexible hyperconverged infrastructure (HCI) appliance, subscription-based licensing, a new cloud-based analytics service, as well as a number of enhancements to DataCore's SDS technology.
Our launch received incredible praise from industry media and analysts. Check out some of the great coverage below to see what they had to say:
In August, we took the DataCore ONE vision to San Francisco for VMworld, where we had our most successful show in years. We received great feedback from industry analysts and attendees. Watch this video from the event to see GigaOm analyst Enrico Signoretti talk with Augie Gonzalez, DataCore's director of product marketing. We also worked with George Crump from Storage Swiss on two lightboard videos, check out this one on fulfilling the promise of SDS delivered by our own Steven Hunt, senior director of product management.
Continuing on the momentum of the DataCore ONE vision and introduction of DIS and HCI-Flex, in November we announced vFilO™, our next-generation distributed file and object storage virtualization technology that is uniquely designed to help enterprises organize, optimize, and control large volumes of data scattered on-premises and in the cloud.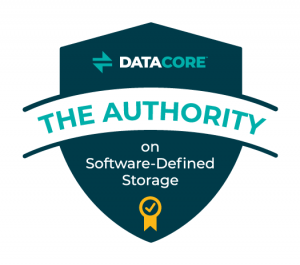 The announcement further validates DataCore's position as the Authority on Software-Defined Storage, as much of what vFilO delivers began as a way to respond to what our customers were seeking to meet their needs and certain gaps in the storage market.  vFilO combines the capabilities of scale-out distributed file systems while delivering on the benefits of an object storage system, supporting NFS, SMB, and S3 protocol access to the same set of data. It optimizes for cost, performance, capacity, availability, compliance as well as other business objectives.
Again, we were met with great response from media and analysts around the vFilO announcement. Check out some highlights below:
The industry also took note with multiple honors bestowed on DataCore, including:
As DataCore's Chief Product Officer Rizwan Pirani highlighted in his post, "The Art of Seeing What is Invisible to Others!" DataCore's technology portfolio quadrupled over the past year with two significant releases of SANsymphony, our flagship product, the HCI Flex appliance for simplified and deterministic deployments, the first 100% SaaS-based analytical platform, DIS, and vFilO for cloud and secondary storage.
Looking ahead, there's plenty more to come in the New Year. In 2020, keep an eye out for some exciting developments in the container space, including a container services product that will address the needs of users deploying stateful containerized applications. Stay tuned!
Want to try DataCore for yourself? Request a demo or contact us today to learn more!