Are you struggling with protecting and providing access to rapidly scaling data sets or enabling distributed content-based use cases? Using tape is cost-effective but data is not instantly accessible; and tape is difficult to manage. The public cloud often presents the challenge of compounding, unpredictable recurring costs, and the inability to meet local performance and privacy requirements.
DataCore Swarm provides an on-premises object storage solution that radically simplifies the ability to manage, store, and protect data while allowing S3/HTTP access to any application, device, or end-user. Swarm transforms your data archive into a flexible and immediately accessible content library that enables remote workflows, on-demand access, and massive scalability.
Provides a scalable platform that can continually evolve by pooling any mix of x86 servers, HDDs and SSDs with 95% data storage capacity
Automates storage and infrastructure management so a single system/IT administrator can manage dozens to hundreds of PBs
Includes a web-based UI and API simplifying the management of hundreds of nodes, billions of files, thousands of tenants, and PBs of data
A scale-out parallel architecture enables all nodes to perform all functions resulting in the ability to scale performance linearly
Media & Entertainment
A content-focused platform enabling secure file distribution, access and tape replacement
High-Performance Computing
Multi-tenant S3 storage that streamlines collaboration and accelerates time to discovery
Healthcare
Scalable medical image archive and patient record management
Enterprise IT
Secondary storage platform to eliminate storage silos and manage unstructured data growth
Cloud Storage
Operational and workflow efficiencies for private, public and hybrid cloud data storage
Government
Safeguard data, ensure data integrity, and meet compliance requirements
We chose Swarm because it was the most flexible platform for us and had good per-terabyte licensing. We started with 100 TBs and now have over 1.25 PBs across 200 nodes from different hardware vendors. Swarm is a key component to deliver that high-end quality service that NEP has always aimed for.

NEP The Netherlands
We could just plug a new node in and it would boot itself up automatically. There was no prep work. We had no OS installs. We could migrate disk groups between nodes and Swarm would decide if the disk was part of the node or not and move it around to the correct node.

iQ Media
Scalability is one of the slickest things about Swarm, one sweet thing they did with the platform is, when you drop a new node in, it builds itself from the ground up. The new node announces itself to the main controller. If you want to add a 72 terabyte or petabyte node you just drop it in.

British Telecommunications (BT)
Energy Savings Calculator
Find out how much energy and money you can save* when using DataCore Swarm's adaptive power conservation technology, Darkive™, that spins down disks in your storage cluster when there are periods of inactivity/idle time.
Total number servers in your storage cluster
Use the slider to set the number of servers
Power savings over 5 years
Cost savings over 5 years
$5,065
*Energy and cost savings are estimates only; not a guarantee. Actuals may vary.
Want to learn more about Swarm and its Darkive functionality?
Features
Unified web console for admins and end-users to track performance trends and mange/monitor content usage quotas
Simplify capacity addition and hardware refresh with self-managing and self-healing architecture
Stream content directly from the storage layer to internal employees or external subscribers
Optimize data protection for performance or capacity through lifecycle policies
Quickly search for data, customize metadata, and access files across a single namespace through S3 and HTTP(S)
Easily manage thousands of tenants and billions of files across multiple sites and unlike devices
Back up cold data from Swarm to Wasabi, S3 Glacier and object-based cloud and tape storage solutions
Secure data through encryption, access controls, and integrity verification
The figure below highlights the various data and infrastructure management capabilities of DataCore Swarm including key data services, access methods and supported protocols. Explore features in detail.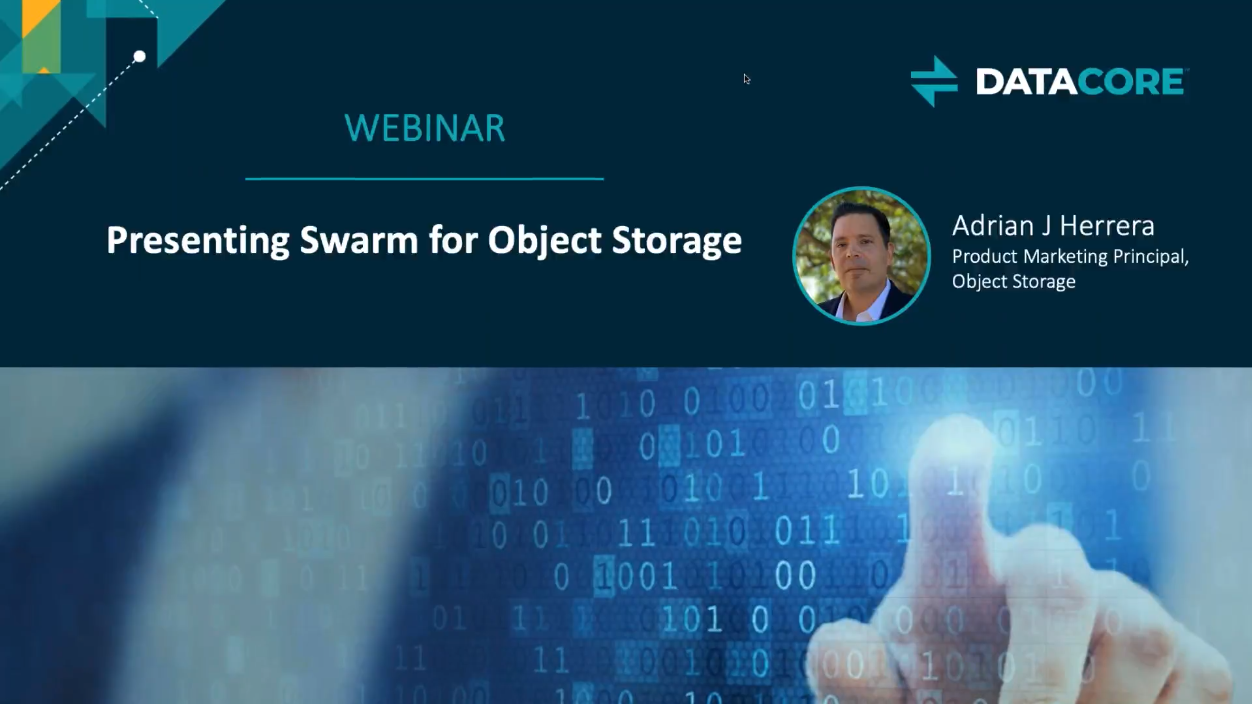 Store, Manage and Protect Your Unstructured Data on Swarm Hyperscale Object Storage Platform
Benefits of Swarm Object Storage
Rapid Recovery
25X
less down-time than traditional RAID storage
Superior Optimization
95%
storage utilization for media and content
Performance Ready
5X
faster throughput for S3 read and write operations
Simplified Content Management
Intuitive data classification, indexing, and dynamic search
Policy-based replication for synchronous, asynchronous and stretch cluster uses
Custom metadata for ad hoc search & query
Share or stream files directly from the archive
Bulletproof Data Security
Supports data encryption in transit and at rest
Assure data immutability with Legal Hold, WORM integration, and S3 object locking
Establish content integrity using Integrity Seals
Track storage access and activity with audit trails
Multi-Tenant Administration
Manage tenants, buckets, domains, and quotas
Integrate with existing identity management systems such as LDAP, AD, ApacheDS, Linux PAM, token-based S3 and SSO/SAML 2.0 platforms
Create detailed billing and accounting reports by domain based on bandwidth usage, access audits, etc.
Business Continuity and DR
Maintain an always available active archive to retrieve data on-demand
Increase data durability through erasure coding and replication at the cluster- or object-level
Automatic failover and recovery
Automated backup to Wasabi or Amazon Glacier for DR
Hassle-free Scalability
Start with just one server and easily add capacity and performance as required
Expand to exabyte level storage with web-scale search and data access
Add disks and server hardware of your choice to the Swarm cluster
Extensible architecture supports Amazon S3 API and other third-party APIs
Cost Savings and Lower TCO
High automation optimizes the utilization of resources, administrative time and budget
No downtime hardware upgrades enable ability to continuously evolve underlying hardware
Industry-leading 95% capacity for your data
Energy savings through adaptive power conservation for disks
Flexible Deployment
Swarm runs on any standard x86 hardware and is highly available by design. Swarm software boots from RAM and utilizes only 5% of hard drive capacity for system data resulting in an industry-leading 95% capacity availability for your content. Scale up with disks and scale out with more nodes within a Swarm cluster, or even expand with more Swarm clusters as needed. With flexible deployment, you can add tenants and sites at any time. Swarm supports hot plug drives, adding/ retiring disks/nodes and rolling upgrades of the full software stack—all with no service downtime.
Bare Metal Deployment
Boot from bare metal on any x86 server using any mix of HDDs and SSDs.
Virtual Machine Deployment
Deploy Swarm on virtual machines (VMs) powered by VMware ESXi.
Containerized Deployment
Single-server installation with all Swarm services containerized and running on Kubernetes K3s.
Packaged Hardware Appliances are also available from our partners. Contact DataCore for more information
Use DataCore FileFly to Easily Offload Files from SMB Shares on NAS Devices and Windows Filers to Swarm
Licensing
Simple, transparent, and flexible licensing based on useable storage capacity in TB or PB across all of your Swarm instances.
Swarm object storage solution is typically used as an active archive, backup target, cloud storage, and content analytics and delivery platform. Licensing is the same regardless of what type of data is stored and managed and what use case Swarm is used for. Every Swarm term license includes Premier Support (24×7) and free product updates.
Cost-effective term licensing (annual and multi-year licenses are available)
Scale capacity as needed
Price per TB goes down as consumption grows
Volume discounts on total capacity in use apply
Governmental and educational organizations are eligible for additional discounts
Get Started with Swarm, Software-Defined Object Storage
Store your growing data on scalable & secure active archive. No more insane cloud costs!
Join thousands of IT pros who have benefitted from DataCore solutions.
"Scalability is one of the slickest things about Swarm. One sweet thing with the platform is when you drop a new node in, it builds itself from the ground up. If you want to add a 72 TB or PB node you just drop it in."