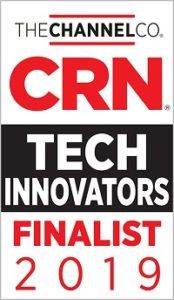 We're proud to announce that CRN®, a brand of The Channel Company, has recognized DataCore as a finalist in the 2019 CRN Tech Innovator Awards for the second year in a row. These annual awards honor innovative hardware, software, and services. CRN editors evaluated hundreds of products, across 34 technology categories using criteria, including technological advancements, uniqueness of features, and potential to help solution providers solve common IT challenges.
The PSP9 update of SANsymphony™, our enterprise-class software-defined storage (SDS) software platform, received the finalist honor in the "Storage – Enterprise" category as it provides a high-performance, highly available, and flexible storage infrastructure with a low Total Cost of Ownership (TCO).
So, what makes us a Tech Innovator?
SANsymphony software-defined storage is truly innovative in that it enables users to realize the true promise of SDS by unifying primary, secondary and archive storage under a single intelligent layer. Our flexible software-defined storage platform helps diverse IT environments achieve the maximum value from their storage investments and simplify management. In the latest update that underwent an extensive UI redesign, we also released:
AES-256 bit Encryption
Enhanced ESX Metro-cluster Resiliency
Simplified DataCore Installation Managers for ESX and Hyper-V
Enhanced Support for VVOL 2.0
Rest API Installed by Default
Licensing Available by Term Subscription
Yet, perhaps the most innovative feature we released is DataCore Insight Services (DIS), our new cloud-based predictive analytics engine. With DIS, customers gain centralized command and control of different classes of storage and an understanding of the causation and correlation between previously unknown events. This delivers higher performance, control, and reliability, and gives users the ability to conduct trend analysis on usage to predict when new capacity will be required or when disks will fail, know what workloads would be affected through impact analysis, and plan workload additions for optimal deployment.
From a channel partner perspective, SANsymphony enables our valued partners to offer customers the most powerful and flexible solution to modernize storage systems for the challenges of tomorrow. Doing so delivers exceptional performance, availability and flexibility. We've also simplified deployment and operation with increased automation and straightforward procedures, reducing both the time and level of expertise our partners require to get up and running.
"CRN's Tech Innovator Awards honor technology vendors who work tirelessly to craft ground-breaking solutions for end users, matching the speed of the channel's evolution," said Bob Skelley, CEO of The Channel Company. "The winners in this year's award categories deserve congratulations for their success in driving IT innovation forward for solution providers and their customers."
Request a demo to learn more about SANsymphony, DataCore Insight Services, and our overall DataCore ONE vision.