IT organizations large and small face competitive and economic pressures to improve data access, ensuring operational continuity while reducing storage costs. With today's IT environments becoming more distributed and heterogeneous, it gets more challenging to uniformly and centrally manage hardware from different suppliers spanning different models, configurations and deployments. Business needs are evolving so rapidly that IT teams need flexibility to add and change storage equipment to suit shifting cost, performance, availability, and other requirements.
Software-Defined Storage (SDS) solutions from DataCore enable IT teams to solve these challenges by providing the ultimate flexibility to store, manage, protect, and access data. Powered by enterprise-class data services and intelligent data management capabilities, DataCore SDS solutions ensure placement of the right data on the right storage at the right time. AI/ML-driven policies control how data dynamically moves between different storage systems based on data access patterns (hot/warm/cold) and other bespoke IT and business objectives.
Your Storage Can Do More
DataCore SDS solutions allow you to easily adapt your primary, secondary, and archival storage to your business requirements. Maximize the value across your IT investments by improving data access and protection while reducing costs – onsite, across sites, or in the cloud. Break free from vendor lock-in and future-proof your infrastructure to prepare for the demands of tomorrow. Replace ineffective methods with automated solutions for data protection, placement, update, and retrieval.
Whether you seek to make better use of disparate assets already in place, simply expand your capacity, or modernize your environment completely with new storage technology, DataCore can help.
With over 20 years of industry experience and serving over 10,000 customers worldwide, DataCore is the authority on software-defined storage addressing your growing data and capacity challenges with best-in-class solutions for block, file, and object storage environments.
DataCore is a game changer which is ahead of the trend and a key element to help organizations to truly be able to have a software-defined data center.

Capgemini
Container-native storage for Kubernetes environments:
Run stateful apps at scale and streamline CI/CD operations.
DataCore brings a comprehensive software-defined storage portfolio, supporting block, file and object storage to the table. Many customers can appreciate the value proposition this offers to manage all three data types.

IDC
A Vision for Unified Storage with Ultimate Flexibility, Visibility, and Control
The power of software-defined storage breaks silos and hardware dependencies, unifying primary, secondary, and archive storage tiers, enabling IT to make storage smarter, more effective, and easier to manage.
DataCore ONE is our vision for building a unified platform to simplify and optimize different storage tiers. All storage assets are enriched with uniform, high-end data services and managed under a common control plane which also provides predictive analytics. A unified SDS platform for any of your applications and users provides you with the flexibility to leverage any storage to safeguard your data.
Unparalleled Customer Support
DataCore's Customer Support team drives advocacy and loyalty through a consistent, world-class customer service experience. We reinforce the value of our global support and services that our customers have realized and benefitted from for over two decades.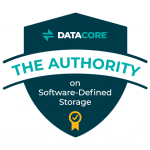 DataCore Software delivers the industry's most flexible, intelligent, and powerful software-defined storage solutions for block, file and object storage, helping more than 10,000 customers worldwide modernize how they store, protect, and access data. With a comprehensive product suite, intellectual property portfolio, and unrivaled experience in storage virtualization and advanced data services, DataCore is The Authority on Software-Defined Storage.
WHY DATACORE SOFTWARE-DEFINED STORAGE