READING, UK, April 5, 2018 – DataCore Software today announced the appointment of Dave Zabrowski as chief executive officer (CEO) and Gerardo A. Dada as chief marketing officer (CMO). Former CEO and original founder George Teixeira transitions to the role of executive chairman, where he will work with the management team on key strategic initiatives for DataCore. This includes driving the company to its next level of growth as it delivers software solutions that enable real-time data, allowing IT departments to radically improve the economics, availability and responsiveness of their systems.
DataCore Software is the cornerstone of the next-generation, software-defined data centre with a product portfolio covering software-defined storage, hyperconverged and workload optimisation solutions. DataCore bridges the gap between the enterprise's need to achieve real-time business and the requirement to maximise investments by leveraging current and future IT assets across all major vendors. Its patented technology overcomes I/O bottlenecks and inefficiencies, delivering maximum performance, uptime and resource utilisation in a simple and cost-effective way.
Zabrowski brings extensive cloud, infrastructure, analytics and go-to-market experience to DataCore. He most recently served as founder and CEO of Cloud Cruiser, a leading cloud analytics company that was acquired in 2017 by HPE, and previously served as CEO of Neterion, an early pioneer in networking virtualization. Zabrowski was also vice president and general manager at HP, where he was responsible for a $2.5B business unit of enterprise servers, storage and PCs. He received a bachelor's of science degree in Electrical Engineering from Purdue University and an MBA in International Business from UCLA Anderson School of Management.
Dada is an experienced technology marketer who has been at the centre of the web, social, mobile and cloud revolutions at some of the world's leading companies. He joins DataCore after most recently serving as vice president of product marketing and strategy at SolarWinds. Earlier, Dada was head of product and solutions marketing at Rackspace, where he established the company as the leader in hybrid cloud. He has also held senior marketing roles at Bazaarvoice, Motorola, and Microsoft. Dada received a five-year business degree from a UAEM University in Mexico and a general management certificate from University of Texas at Austin.
"There is a strong market opportunity in real-time data, and I am excited to work with a company that is a true innovator in that space," said Dave Zabrowski, CEO of DataCore Software, "DataCore's proven technology, plus the deep experience of the combined team, provide us with a clear path to be the catalyst that businesses need to take advantage of real-time data, while radically improving the economics of their systems."
"As the pioneer in software-defined storage technology, DataCore has built a reputation for technology innovation and rock-solid products," said Jeff Horing, co-founder and managing director at Insight Venture Partners. "We're excited to see how the new team will build on DataCore's leadership position and drive accelerated growth for the business."
Images: Individual DataCore Exec Team Images Available Upon Request: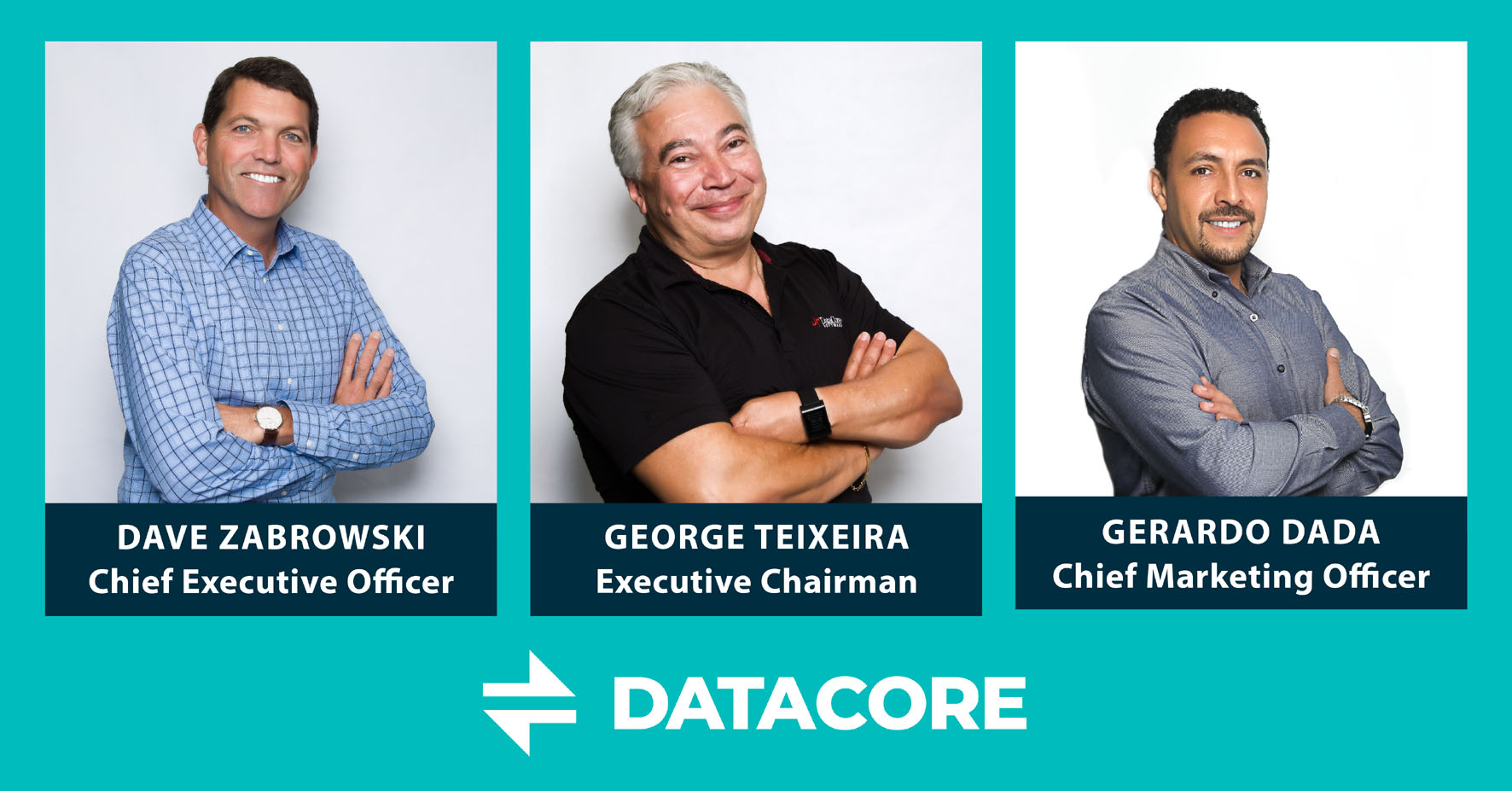 About DataCore
DataCore Software is the authority on software-defined storage. Its patented technologies empower IT organizations to achieve a highly-efficient, high-performance, always-available software-defined storage infrastructure by providing ultimate flexibility and eliminating vendor lock-in. An industry pioneer in software-defined storage, DataCore has extended its technological innovation to hyperconverged infrastructure solutions to broaden the possibilities of what organizations can do with ultra-efficient data systems in traditional, hyperconverged and hybrid cloud environments. DataCore's proven, mature and reliable solutions help more than 10,000 customers worldwide eliminate downtime and increase storage utilization at higher performance while reducing costs by 50 percent or more. To request a demo, visit datacore.com/try-it-now.
# # #
DataCore, SANsymphony and the DataCore logo are trademarks or registered trademarks of DataCore Software Corporation. Other DataCore product or service names or logos referenced herein are trademarks of DataCore Software Corporation. All other product and service names mentioned are the trademarks of their respective companies.
Contact
For media & PR inquiries:
Sharon Munday
00 44 23 9311 4100
sharon.munday@datacore.com