READING, UK & MALTA, September 02, 2019 – DataCore Software is sponsoring the LifeCycle Challenge in its 21st anniversary year, raising much needed funds to assist renal patients to have a significantly improved quality of life. Their main fundraising event, the Nescafé 3in1 LifeCycle Challenge, this year sees 27 cyclists racing 2,000km across Vietnam, Laos and Cambodia in just 10 days this September.
Michel Portelli, VP EMEA Marketing, DataCore commented: "This life-changing charitable challenge across three Asian countries requires maximum performance and stamina. One of the great value additions the LifeCycle charity brings is matching kidney donors to patients via their clever software package 'Traccia'. This facilitates the procedure of finding the best compatibility possible between a kidney donor and a renal patient. As a key software manufacturer, we admire both the application and the ethos of competitors, and are happy to support the initiative and will follow progress avidly."
LifeCycle founder, Alan Curry said: "We are in our 21st year of helping patients who suffer from kidney failure. We thank DataCore for joining our platinum sponsors for this year's challenge that includes long climbs in tropical heat of over 30 degrees through lush Vietnam and the meandering Mekong Delta and finishes at one of the world's greatest wonders, the iconic Angkor Wat. Each sponsor is a valued hero in our eyes as they make a real difference to patient outcomes and the lives of their supporting families."
Throughout EMEA, DataCore has many keen cyclists and are thrilled that competing LifeCyclists will be displaying the DataCore logo on their cycling attire.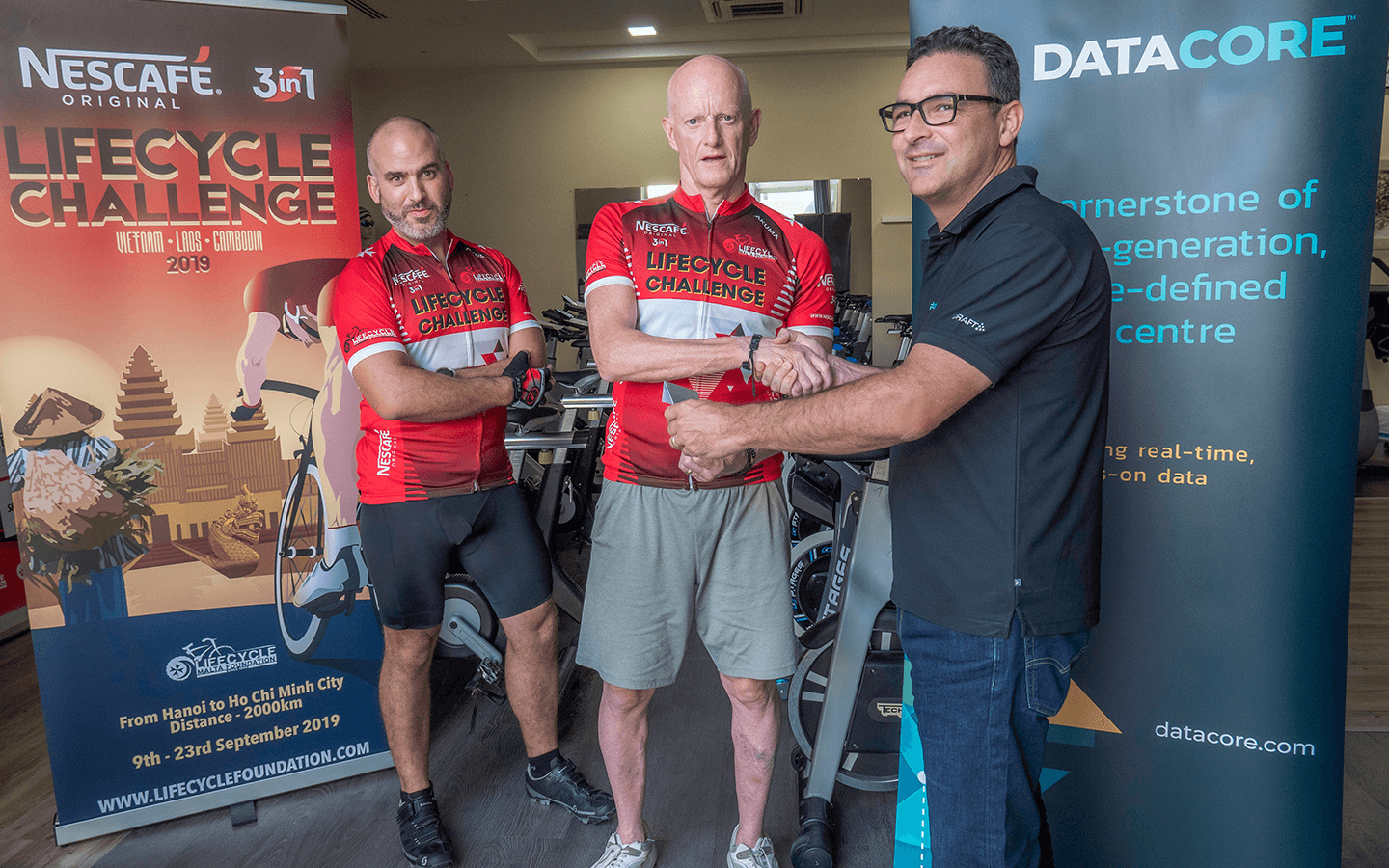 Left to right Michael Agius Muscat, Alan Curry, Michel Portelli
Follow the Facebook progress of Nescafé 3in1 LifeCycle Challenge 2019: https://www.facebook.com/LifeCycleChallenge/
About LifeCycle (Malta) Foundation:
Founded by Alan Curry in 1999, LifeCycle (Malta) Foundation has been supporting renal patients for 20 years. Over these years, more than € 2 million have been donated towards life-saving equipment and providing better facilities for patients suffering from kidney disease at the Renal Unit, Mater Dei Hospital.
Among its annual contributions, LifeCycle supports the maintainance of the software matching programme Traccia at the Renal Unit. Traccia facilitates the procedure of finding the right match for renal patient compatible with a kidney donor. Since the introduction of Traccia in 2017, 32 patients successfully received a kidney transplant after their blood composition was found to be compatible with the donated organ; the annual maintenance and use of the Twilight Shift Van to transport patients to and from Mater Dei Hospital for their evening dialysis, some three or four times a week; sponsoring the annual Lourdes Pilgrimage every August for renal patients and accompanying medical staff. LifeCycle also works to further awareness about organ transplants in Malta in collaboration with the Transplant Support Group.
About DataCore
DataCore Software is the authority on software-defined storage. Its patented technologies empower IT organizations to achieve a highly-efficient, high-performance, always-available software-defined storage infrastructure by providing ultimate flexibility and eliminating vendor lock-in. An industry pioneer in software-defined storage, DataCore has extended its technological innovation to hyperconverged infrastructure solutions to broaden the possibilities of what organizations can do with ultra-efficient data systems in traditional, hyperconverged and hybrid cloud environments. DataCore's proven, mature and reliable solutions help more than 10,000 customers worldwide eliminate downtime and increase storage utilization at higher performance while reducing costs by 50 percent or more. To request a demo, visit datacore.com/try-it-now.
# # #
DataCore, SANsymphony and the DataCore logo are trademarks or registered trademarks of DataCore Software Corporation. Other DataCore product or service names or logos referenced herein are trademarks of DataCore Software Corporation. All other product and service names mentioned are the trademarks of their respective companies.
Contact
For media & PR inquiries:
Sharon Munday
00 44 23 9311 4100
sharon.munday@datacore.com