The life of a storage administrator isn't easy. With many fires to put out and angry beasts to tame, there is a lot going on every day: assigning storage capacity to users and applications, addressing performance slowdowns that affect the user experience, handling various tools for identical tasks, not to mention managing hardware failures, outages, capacity running out on storage devices, and replication and backup job failures to name a few.
Typically, manual storage management efforts eat up the bulk of an administrator's productive schedule rather than allowing them to focus on solutions that add value to the core business. Saddled with repetitive and manual tasks, storage administration teams need to factor automation into their storage management strategy.
In an Uptime Institute survey from 2020, 90% of data center operators said they would increase their use of remote monitoring as a result of the pandemic, and 73% said they would increase their use of automation.
We are not talking about a complete IT transformation with complex enterprise process automation solutions and orchestration runbooks. Setting up simple automation for some of your daily storage management tasks can help you save considerable time, which can be used to address more pressing and higher priority items on your IT to-do list. In this blog we'll examine which storage management tasks can be easily automated with a software-defined storage approach.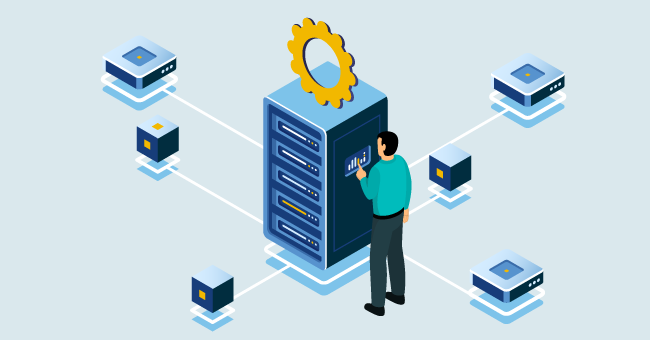 Automated Storage Pooling and Capacity Balancing
Managing silos of storage with unused and wasted capacity on some devices while having others fill up fast is an inefficient way to manage capacity. Using software-defined storage in your environment can help automatically virtualize the data services from the underlying storage hardware. Once the data services are abstracted, hardware capacity across heterogeneous storage systems can be logically grouped to form storage pools. These pools can be managed from a single storage control plane instead of having to use different management tools from different vendors. This makes storage provisioning far more efficient as the current capacity across all storage devices can be fully utilized before having to invest in capacity expansion and new hardware, both of which perpetuate silos and sprawl.
Capacity of any newly added or upgraded storage device gets automatically pooled with the existing storage capacity.
Unused capacity from all devices is automatically reclaimed and made available for provisioning.
Capacity utilization is automatically balanced across storage systems so that there is no one device running out of capacity frequently.
Automated Data Placement
Determining what data to store on which storage is mission-critical to ensure performance and cost objectives. For example, you cannot store all your cold (infrequently accessed) data on your fastest and most expensive storage, which needs to be reserved for your hot (frequently accessed) data. It is manually impossible to keep track of data access temperatures to make this placement decision at all times.
Complicated access patterns make it hard to achieve storage system efficiency, and automation becomes an absolute necessity in order to control costs. Machine learning-assisted automated data placement technology from software-defined storage solutions can be leveraged for this purpose.
Auto-tiering in a block storage environment moves data between different storage classes and ensures the right data sits on the right storage based on how hot, warm, or cold the data access is.
In the case of file storage, data placement decisions can be further automated and governed based on pre-defined business objectives to meet performance, availability, cost, data protection, and compliance requirements.
Tiering automation can be expanded to offload colder files from NAS systems and file servers to cloud/object storage, thereby freeing up storage space on-premises. In this case, this is referred to as file tiering.
Whether one is using block-level tiering or file-level tiering, it is important to ensure that data placement happens dynamically as an ongoing process. Data placement is not a one-time activity. Based on block-level access temperatures or file-level policies, there needs to be constant observability of changing patterns so that data can be moved accordingly between storage media during normal business operations.
Automated Metadata Assimilation in Distributed NAS Environments
Metadata is at the heart of file storage management. Based on the wealth of information obtained from file metadata, files can be searched, accessed, moved, copied, protected, and so on. A software-defined file storage management approach assimilates metadata from across diverse NAS devices and file servers and creates a global file system from which files available from different mount points can be accessed from a single global namespace. As we saw above, file placement decisions can be automated based on insights gleaned from metadata. In addition to pooling capacity across unlike systems, disparate namespaces can also be aggregated to form a universal namespace making data management more streamlined and easier, while providing visibility across heterogeneous NAS systems.
Conclusion
In a nutshell, anything that can be automated should be automated, especially for the IT personnel where a good majority of their time is needed on business-driving projects.  Automation can and should be a key part of the overall storage management and administration strategy. By using the comprehensive automation capabilities of software-defined storage, you can reduce time spent on repetitive manual tasks, streamline and accelerate workflows, enhance productivity, and improve service levels.
Contact DataCore to learn how our software-defined storage solutions for block, file, and object storage environments can help automate storage management operations for your team, enabling you to focus on what is important for your organization.
Helpful Resources