Highly available, high-performance software-defined storage
Software-defined storage for block & file
Seamlessly complement or replace existing storage
Single pane of management across all storage
Industry-leading performance
Affordably scale-up or scale-out
Enterprise-grade Lenovo systems

Modern Storage Platform
The Lenovo Software-Defined Solution with DataCore is a software-defined storage (SDS) offering designed to help customers efficiently manage increasing storage complexity and demands. It pools diverse storage assets, letting you run more workloads with better performance and availability. It also provides easy scalability and single pane management.
Accelerates Performance
The SDS Solution with DataCore speeds up your application's response times using DataCore's Multi-Core Parallel I/O Technology. In combination with Lenovo ThinkSystem's powerful processors and high-speed RAM caching, this parallel I/O technology provides your users with a significant improvement in overall application speed and your business with increased productivity.
Supports Legacy Storage
The SDS Solution with DataCore takes isolated storage devices, sometimes spread between different locations, and places them under one common set of enterprise-wide services. It pools their collective resources, managing them centrally and uniformly despite the differences and incompatibilities among manufacturers, models and generations of equipment in use. The net result is faster performance, higher availability and greater cost savings across your company through consolidation.
Fits Any Environment
With DataCore on Lenovo ThinkSystem servers, you get more efficiency and performance out of your storage infrastructure. Scale up or scale out your software defined storage solution with:
ThinkSystem SR630 – a 1U 2-processor system that provides high performance and a large storage capacity;
ThinkSystem SR650 – a 2U 2-processor system designed for speed and expansion with flexible storage and I/O options; or
ThinkSystem SR950 – a powerful 4U 8-processor system for workloads requiring large memory and storage capacity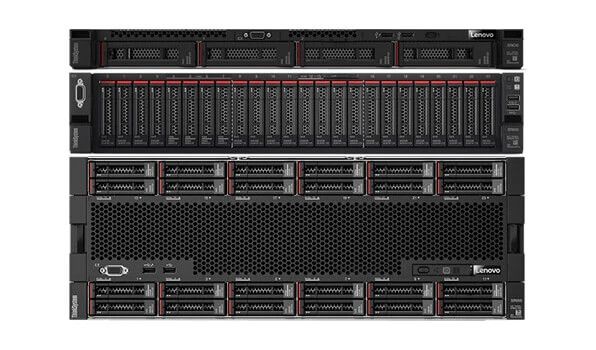 Tech Specs
| | |
| --- | --- |
| Storage Software | DataCore |
| Scale-Up or Scale-Out Storage | Use two server nodes for synchronous mirroring then scale with more nodes (scale out) or external storage (scale up) |
| Data Availability and Integrity | Synchronous Mirroring, Asynchronous Replication, CDP, Snapshots / Backup, Metro-cluster support |
| Data Acceleration | Multi-Core Parallel I/O processing, high-speed caching, Auto-tiering, Random Write Accelerator, QoS |
| Data Optimization | Storage Pooling, Thin Provisioning, Deduplication / Compression, nondisruptive Data Migration |
| Systems Management | Lenovo XClarity Administrator with mobile option; Lenovo XClarity Pro software bundle; Lenovo XClarity Energy Manager; IMM2.1 |
Specifications may vary depending upon region.
Resources
Read a summary of technical and performance specifications for this product.
Access all the product-related white papers, case studies, videos, and more.
Comprehensive services to support the full lifecycle of your IT investment.
Get started with the cornerstone of the next-generation, software-defined data center