Disasters come in many flavors, although most people think of them in terms of epic storms with names like Katrina or Hugo. But your business can also face threats from security breaches and data center outages caused by less dramatic events, such as broken water pipes, electrical fires or simple human error.
It's easy to assume your information is not at risk based on its geographic location. But if you stop to consider the value of your data, it becomes clear that you cannot afford to be complacent when it comes to a disaster recovery solution.
In this series, we'll give you an overview of best practices, tips and suggestions on how to ensure your organization's information is safe and easily accessed in the event of a disaster, natural or manmade.
Did You Know?
Here are 17 surprising statistics (1,2) that show most companies are not prepared for a site outage:
More than half of companies (54%) experienced a downtime event that lasted more than 8 hours – one full work day – in the past five years.
Just 2% of organizations recovered from their latest incident in under an hour.
1 in 3 organizations were hit by a virus or malware attack in the last five years.
Only 35% of outages are caused by natural disasters. Another 45% are operational, and 19% are due to human error.
Site outages typically cost businesses at least $20k for every day of downtime, with more than a quarter of organizations reporting that one day of downtime would cost over $100k.
And when you break it down into more detailed categories, the outlook is not much better.
Natural disasters:
82% state their IT infrastructure is not fully prepared for a DR incident
Only 27% believe they are fully prepared to ensure continuous availability
Only 50% are confident 100% of data can be restored per SLA
56% would need 8 hours+ to restore 100% of data
Security breaches:
19% had a security breach in the last 12 months
58% due to malware and viruses
$810K per incident
Data center outages:
28% have experienced data loss in the past 12 months
Cost of $807,571 per incident
40% have experienced an unplanned outage in the past 12 months
Cost of $432,000 per incident
Common causes including hardware failure and power loss
Business Continuity and Disaster Recovery Strategy
Do you have a comprehensive strategy in place to cover all the aspects of disaster recovery? Specifically, you need to understand how data is handled and recovered as part of your plan—because if you lose your data, you've lost customer and application data – and possibly your reputation.
Quickly Recover Your Business Data
Many IT professionals have embraced the philosophy of noninterference when a legacy system is working fine. Don't make this mistake. To adequately safeguard all your data, whether it's on the cloud or in legacy applications, and then restore it quickly following an outage, you need a software-defined storage solution (SDS). This approach gives you the ability to manage your data storage resources and functionality with no dependencies on the underlying physical storage hardware.
DataCore's SDS platform has built-in storage services that protect data availability and integrity, including asynchronous data replication, continuous data protection, and synchronous mirroring as shown below.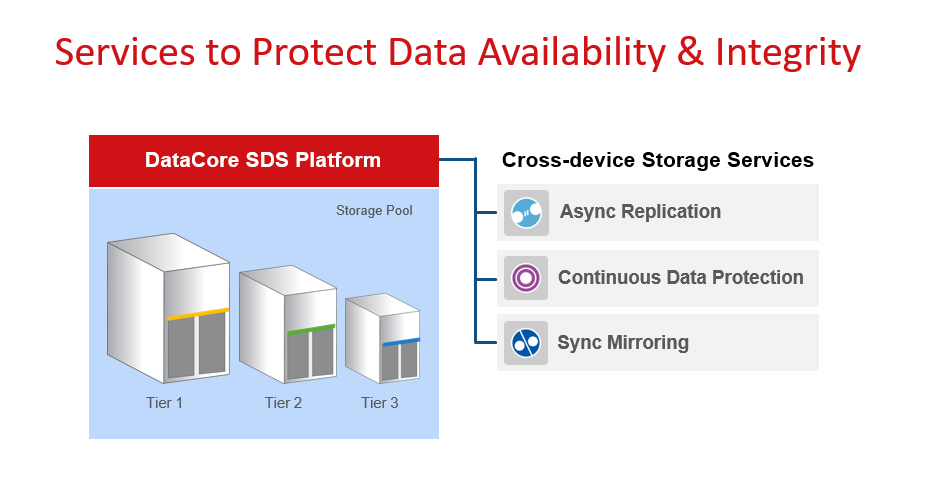 In the next post in this series, we'll do a deeper dive into how DataCore's technology supports your overall disaster recovery strategy.
---
If you're looking for help building an effective plan, check out these two other helpful articles as well:
Sources: