Every organization strives to serve the interest of their customers and partners. This motivation pushes manufacturers to innovate in their technology, adapt to changes, and add value to not just satisfy but delight customers. DataCore has been doing this for over two decades and has won the trust and goodwill of over 10,000 customers worldwide.
Beyond customer satisfaction, it is also a significant milestone for companies when they get recognized by credible third-party institutions and juries. 2021 has been a remarkable year for DataCore as we have been the recipient of numerous awards and accolades. This blog showcases some of the awards that we have been honored with.
Stevie Award for Sales and Customer Service
For us, this was a very prestigious honor as we have been the recipient for this award for the past eight years consecutively. In the category "Front-Line Customer Service Team of the Year – Technology Industries," DataCore was a Silver Stevie winner.
This recognition reaffirms the service excellence we stand for and is a testament to our committed customer support and sales organizations who work to help our customers using our software-defined storage solutions.
Storage-Insider IT Award
The "Insider" family of publications extensively cover industry news, analysis, thought leadership commentaries, and technology updates in the IT world. They have dedicated segments such as CloudComputing-Insider, DataCenter-Insider, Storage-Insider, and Security-Insider, etc. DataCore was chosen as the winner in the Storage-Insider Reader's Choice Awards for the "Data Management and SDS" category. From a list of over ten competing storage vendors, we received the top prize by popular vote. In the past seven years, the highest honor of Platinum has been awarded to us five times. This demonstrates continuous recognition in the IT community and its trust in our offerings.
NAB Product of the Show Award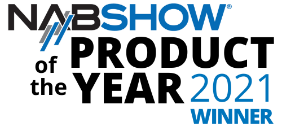 The NAB show is the largest trade show for media, entertainment and technology organized by the National Association of Broadcasters. DataCore Swarm was chosen as a winner in the 2021 NAB Show Product of the Year Awards in the "Cloud Computing and Virtualization" category. Swarm software-defined object storage was recognized as one of the most significant and promising products and technologies being showcased. This award is a testament to Swarm's continuous product innovation and value addition towards the media and entertainment industry.
Storage, Digitalisation & Cloud (SDS) Awards
DataCore Swarm was selected as the winner of the "Storage Management Innovation of the Year" at the Storage, Digitalisation and Cloud (SDC) Awards in November 2021. The SDC Awards are selected by the readers of Digitalisation World, who vote on category winners from a list of finalists chosen by the publications' editorial team.  We are grateful to both our partners and Digitalisation World's readers who recognised Swarm, and thank everyone that took the time to vote.
We are very thankful for all that 2021 had to offer. Thanks to all our customers, partners, and employees. Here's to 2022, a year of hope, health, and happiness!
Helpful Resources