How software-defined storage can help ensure business continuity when IT staff is not physically present at the datacenter to address storage failures
We are amidst a global pandemic. The coronavirus COVID-19 has been spreading like wildfire across geographies affecting people's health and well-being. To contain its spread, many organizations in both the private and public sector have encouraged – and in some parts of the world enforced – their employees to work from home. This includes IT staff that vigilantly care for our datacenters.
A Novel Challenge for IT Teams
Supporting home users and performing regular system administration remotely is one thing; but repairing and upgrading the physical infrastructure on which we rely is simply not possible without being on-site. And without that presence, the likelihood that failures in servers, networks and storage devices go unattended looms high.
Ideally, a business continuity and disaster recovery plan kicks in under these circumstances. But this viral pandemic is not really a localized disaster causing the shutdown of a site. The focus here is more on ensuring uninterrupted access to data and services – rather than on restoring the catastrophic effects of wind, fire, or water.
To deal with the ripple effects of COVID-19 (which we don't know how long will prevail!) IT must assess their vulnerabilities – and if not already there, institute contingency plans for major equipment outages. The tricky part is here IT must do all they can while they are also working from home/remotely.

IT Preparedness and Business Continuity Planning:
Best Practices
Let's look at some of the key things that need to be part of your business continuity plan for the COVID-19 pandemic.
Identify specific staff member(s) as point(s) of contact to coordinate pandemic readiness activities. These would include tracking news and announcements, informing/escalating key stakeholders about concerns, updating the business continuity plan. making sure what is planned is set in motion, and tracking and reviewing the operations. This would also include mapping out dependencies within the IT infrastructure and the business services to understand where disruptions can possibly occur and assess the impact on the value chain.
Remote access for employees will be the need of the hour. Reliance on VPN will grow. Some organizations may increase their VDI rollouts to provide more virtual desktops to remote employees. All this increases the burden on remote desktop support teams should employees face issues as they work from home. Proper monitoring must be set in place to help endpoint related issues.
If most/all IT employees are working from home, as we established earlier, the IT infrastructure is left unchecked and unmanaged physically. Should there be a problem in a device causing it to fail – the inability to perform timely hardware repair, re-configuration, server offload to prevent outages and resource contention will affect key business services even causing significant downtime. Hence single points of failure must be identified pre-emptively, and high availability and failover plans must be planned ahead of time and instituted to ensure business continuity.
Security is key. As employees access corporate data from remote locations and from personal devices, they could be susceptible to security threats and vulnerabilities. Having proper security measures in place such as a VPN/firewall policy, anti-virus tools installed on end-user devices, and so on, is a necessity. Monitoring for abnormalities or pattern deviations in data access can help detect security breaches or potentially malignant events.
Staying connected and updated with vendor, supply chain and partner networks is another important part of the business continuity plan. Find out if the vendors and partners in your IT ecosystem also are going through the same challenges and build out contact and escalation plans in case extraordinary support is required to troubleshoot externally dependent issues.
Storage Plays a Key Role in Enabling Business Continuity
Storage is a critical part of the IT infrastructure. All the application data is stored on storage drives and disks – either directly attached to the servers or through storage area networks (SAN). When left physically unattended by IT even for short periods time, there is a higher chance of hardware failure or power failure, which will directly affect data access and, in turn, application performance and user experience. In order to ensure business continuity and high availability – whether during the virus outbreak or not – IT teams must focus on:
Building two-way or three-way data resilience clusters to circumvent single points of failure
Implementing automatic failover when failures do occur
Taking periodic snapshots of data to access point-in-time images in the event of data loss
Balancing load (IOPS) across storage systems to avoid congestion and overload on primary storage serving business-critical data
Especially during this period of staff absenteeism at offices, it is essential to plan ahead in time for contingencies and set in motion automatic and self-healing data management functionalities that will ensure data availability and help safeguard data integrity.
How DataCore Helps Address IT Contingencies During the Contagion
DataCore's flagship software-defined storage solution, SANsymphony, provides cutting-edge storage virtualization technology for hands-free business continuity amidst storage related failures. Among its rich set of device-independent data services, three of them prove especially valuable under these stressful periods:
Synchronous mirroring performs automatic, non-disruptive failover between storage nodes in the event of failure or planned shutdown.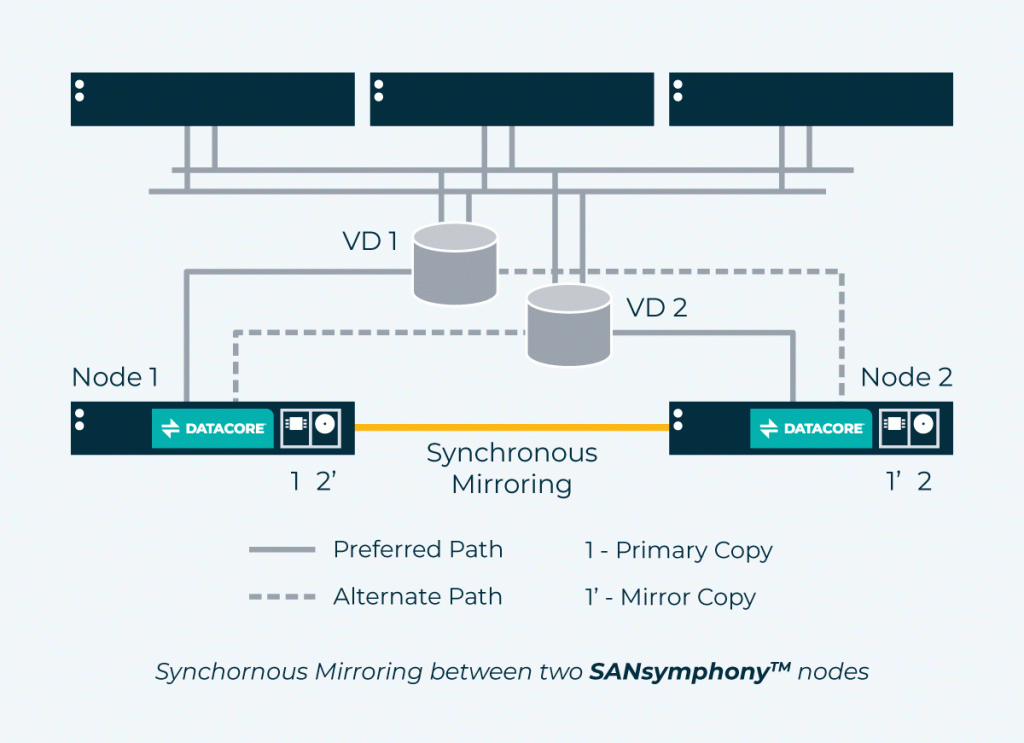 Continuous data protection (CDP) and scheduled snapshots help revert/rollback to an earlier known-good image in the event of data corruption caused by new COVID-19 themed ransomware attacks, computer viruses, employee error, etc.
Auto-tiering automatically migrates data between storage tiers based on data temperatures. It ensures that the primary storage can concentrate on hot, relevant data by offloading the extra burden of less important data to commodity/secondary storage.
With these capabilities by your side, you can ensure zero-downtime zero-touch failover for your storage environment while your IT staff remains safely at home during the COVID-19 outbreak.
We hope the spread of the virus gets contained quickly and eventually stopped for the well-being of everyone. At DataCore, we are monitoring global developments with respect to the pandemic. We want to assure you that we are fully equipped to provide uninterrupted service and support during this time of uncertainty. We are well prepared to offer 24/7 technical support worldwide and have made arrangements for our operational teams to work remotely and collaborate globally for commercial continuity.
Helpful Resources: