How to make the most of existing storage resources by optimizing capacity, reducing costs and supplier dependency
In an earlier post, we discussed how the novel coronavirus, aka COVID-19, is disrupting productivity and what organizations adopting remote work should do to ensure business continuity. In this blog, let's expand business continuity to business resilience, especially on the IT front, and analyze the impact of the virus outbreak on the supply and demand economics concerning storage resources.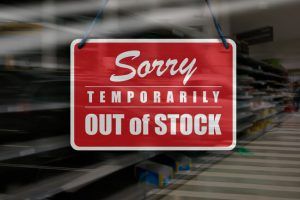 Due to labor force restrictions in manufacturing around the world, we are seeing a ripple effect in the global economy. From automotive to electronics, construction to chemicals, everywhere there is a decrease in production. Factories are closing for weeks since people are advised not to gather in groups. This is also affecting the storage industry – which is our context for this post. We are hearing of disk shortages from our customers and partners worldwide due to manufacturing slow downs.
With many businesses shifting to function remotely, there is an unforeseen spike in unstructured data growth (files and business documents, emails, videos, presentations, analytics data, and so on). If IT teams doesn't already have excess storage capacity on hand, they will find themselves in a quandary. Without having the means to procure new hardware fast, IT staff will struggle finding space on which to store their rapidly accumulating data.
In these times, it is prudent and wise to assess how existing storage resources are being utilized, where vacancies exist and what can be reclaimed or re-allocated to critical business needs.
Here are some best practices that make full use of your existing storage resources and enable you to tap into temporary capacity thereby mitigating the concern over running out of space.

Best Practices for Storage Management
of Unstructured Data
Identify how much data is stored in what storage devices (premium, mid-range, commodity storage and cloud) and assess utilization percentages and potential free space.
Analyze what percentage of the data stored on premium devices is not business critical and migrate those files to lower-cost storage where there may be more capacity.
Set up business policies that dictate which data (what type, from which source, how old, etc.) goes to which storage so you have the flexibility to use a preferred device over another
Object storage and elastic cloud are economical alternatives to move infrequently accessed or archival data (aka inactive data). This will free up more capacity on primary storage.
Make sure to deduplicate and compress the inactive data being stored in the cloud or object store, to further reduce storage space.
Pool your NAS filers and file servers so that you have centralized access and management capabilities to move data between them.
If there are any old NAS devices that have been recently decommissioned or assigned to test roles, consider bringing them back temporarily into your main storage infrastructure.
Takes step to make storage systems interchangeable so you are not constrained to specific hardware brands or models.
Distribute loads across storage systems to avoid overfilling any one device.
Leverage software-defined storage tools to automate non-disruptive data movement across devices.
Make the Most Out of Your Existing Storage:
How DataCore Can Help
DataCore specializes in software-defined storage (SDS) solutions that allow businesses to maximize their investments in existing storage infrastructure. By intelligently managing data placement, storage systems can be optimized to ensure the highest performing storage system have the capacity to run the businesses most mission-critical applications.
Put off storage CAPEX investment for some time in the future (to when you have fully exhausted available capacity)
Leverage existing storage and low-cost cloud storage to store inactive unstructured data
Balance capacity and load on existing storage to avoid performance bottlenecks and resource contention
Make it easy to add/replace new storage when you are ready and purchasing again
With a minimal investment in our software-defined storage solutions, you are able to reap the benefit of cost reduction and make your business more resilient in the face of exponential data growth and mushrooming storage needs. Contact us to learn more and how we can help your business during these dire times of hardware shortages and market recession. We hope you stay safe and keep your unstructured data stored, protected, and managed efficiently.
Helpful Resources: