Cloud adoption is conspicuously rising across different regions of the world, but in varying levels of magnitude and confidence. Some businesses are boldly bursting workloads in the cloud, while others tread more cautiously – still concerned with cloud security, latencies, and unpredictable costs. For these reasons organizations are exploring a mix of private and public clouds to store and protect data based on diverse backup, retention, recovery, and compliance needs. They seek the flexibility to balance data placement across on-premises and off-site locations in a hybrid cloud model.
New Hybrid Cloud Capabilities
DataCore, with its latest release of Swarm object storage software version 15.0, brings new capabilities to address hybrid cloud use cases. Before we look at the new features, let's understand that Swarm is a fully on-premises object storage platform that is deployed in your data center or in edge locations to store and protect large volumes of unstructured data cost-effectively. Swarm supports standard x86 server hardware (with any mix of HDDs/SSDs) as your primary on-premises storage media. Swarm uses native S3/HTTP(S) protocols for data access.
Now, with version 15.0, Swarm introduces the capability to:
Copy Data from Swarm
to Public Cloud
Use this option to selectively push on-premises data to cloud computing apps. This feature can also be used to increase data durability using the cloud storage as a remote site for extra safeguards. Redundant data copies can also be moved to the cloud as deep/cold archive, integrating into your backup archiving strategy.
Copy Data
from Public Cloud

to Swarm
This serves two different requirements: 1) copying data natively stored in the cloud to Swarm for on-premises data protection, archive, and compliance, 2) repatriation of data that was originally copied from Swarm to the cloud, which has undergone changes/updates in the cloud and needs to be brought back to Swarm for persistent storage and management.
Both operations can be initiated directly from the Swarm web-based content portal. You may copy a specific dataset (object), a collection of objects, a folder within a bucket, or an entire bucket. Just select the 'focus dataset' of your choice, enter the target destination storage details and initiate the copying process to and from the cloud.
The copy functions support S3 compliant public clouds as well as Azure Blob Storage.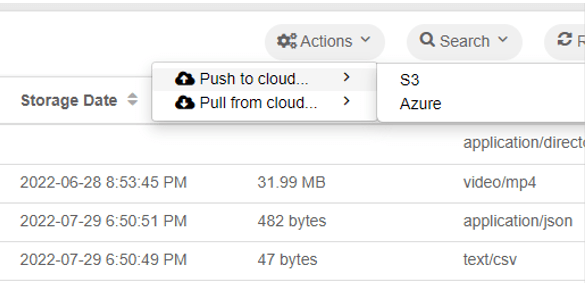 Swarm content portal enabling simple operations to push/pull files to/from the cloud
This short video demonstrates how a remote user copies a collection of objects to an AWS S3 bucket from Swarm and pulls them back on-premises after being updated in the Cloud.
While Swarm offers a more cost-effective and reliable on-premises solution compared to the public cloud for content storage, access, and delivery, it also complements cloud use cases enabling a flexible hybrid cloud strategy to meet your bespoke requirements. Contact DataCore today to try out Swarm in your environment and test-drive these new functionalities.
Helpful Resources