One man's magic is another man's engineering. Read on to learn how you can engineer magic.
We all need a little bit of magic: some sort of sorcery to make life easier. Especially in the IT world jinxed with the challenges of performance, availability, capacity, security, et al., your end users expect solutions to their problems conjured up right away and your bosses need you to be omniscient and omnipresent to triage any issue anywhere. A lot is expected from the IT muggles who run the data center. Disregarding the effort and toil behind every undertaking, everyone expects magic, pronto.
In the IT coven, magic lies in technology. How you employ and leverage technology to your aid and advantage will grant the magic you seek. This blog will unravel some handy tips, tricks and incantations to turn you into an IT wizard. With some automation witchcraft and data services wizardry, the technology of software-defined storage (SDS) will help you transcend the limitations of traditional storage management and, presto, rein in the vortex of disruption under control.
Why should Harry Potter and Doctor Strange have all the magic? Here's some prestidigitation for you.
Spell 1: Augmento – Make IT Faster
The need for speed is continuously rising. Everything is expected to run faster: data access and availability, application performance, database performance, storage performance, etc. With DataCore software-defined storage solutions, you can augment the speed of operations through various means:
Auto-tiering of data across storage classes: When you have data coming in from various sources/applications with different levels of criticality, it's not easy in real time to plan and keep changing storage mappings and connections to application hosts based on data accessibility or device performance needs. This takes a lot of manual effort and would cause business disruptions in the process of doing so. Auto-tiering allows data to be automatically moved between storage hardware based on how hot, warm, or cold the data access is. Your fastest storage gets to store the most frequently accessed data. Your cold/inactive/archival data can get stored on slower but cheaper storage. This helps avoid capacity and load bottlenecks on your premium storage and allows it to run at peak performance. Manual efforts are automated and operational efficiency is increased.
Performance-enhancement techniques purpose-built to speed up block storage:

Solid-state drives (SSDs) are faster than disk. But RAM is faster than SSDs. Compound the speed of SSDs by using DRAM as cache and see the speed of data access multiply manifold.
Parallelism speeds up I/O processing. Leverage in parallel the cores of a multi-core processor to service multiple I/O tasks at the same time. While serial I/O processing is limited to executing threads sequentially one at a time, parallel I/O processing can serve multiple compute workers simultaneously. The net result is faster application responsiveness.
In addition to these two, DataCore SDS leverages more built-in techniques to augment the speed of your block storage equipment.
Quicker, simpler and more efficient file search operations: By providing a common namespace (global catalog) across your NAS appliances and file servers while retaining your existing folder hierarchy, DataCore SDS makes searching and accessing files quicker and more efficient. Wherever your users are accessing files from, irrespective of where files are stored, you can ensure they get a seamless experience.
Automation of data services: Storage admins spend hours each day in the grind of repetitive tasks – snapshots, capacity provisioning and load balancing, data migration (such as during storage upgrade/refresh projects), and so on. DataCore SDS includes turnkey data services that are fully equipped to automate your manual tasks so you can speed up operations, save time and focus your energy on more important projects:

Assure non-disruptive data migration from one storage location to another.
Execute addition/replacement/decommissioning of storage equipment without application and user impact.
Automate restore and recovery of data upon outages or other disruptions to ensure business continuity.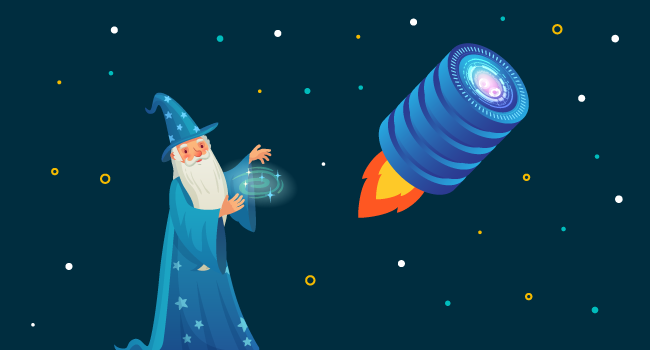 Spell 2: Optumcentra – Make IT Optimal
Business wants everything optimized from operational performance to functional efficiency. Everything is hunky dory when it's optimized. As a general rule, it is said, don't fix it until it is broken. At DataCore, we say optimize IT well before it breaks. Here are a few tips to optimize your data storage infrastructure with the help of centralized command and control.
Centralized pooling and capacity optimization: Data grows and storage sprawls. This is the order of the day in the data center. There are storage silos, stranded capacity, contention for capacity and the expedient need to throw hardware at the problem. To address this, DataCore SDS pools storage capacity from across your storage infrastructure (any make or model of device) under a single virtual pool. This gives storage admins the power to reclaim every bit and byte of unused capacity and centrally balance how resources are provisioned to applications based on business need. Thin provisioning of storage additionally allows you to pre-allocate elastic capacity to workloads without physically reserving it in the disk and flexibly adjusting for scale as real demand grows.
Choosing optimal storage for data placement: Unstructured data comes in all formats and sizes: old/new, hot/cold, large/small, based on different formats, used by different departments, required for specific use cases, and so on. DataCore SDS ships with the ability to automatically place data on the appropriate storage system/location based on pre-defined policies. Enforcement of these policies is governed by AI and ML to optimally place the data on the right storage tiers – either on-premises or in the cloud; across premium NAS devices, files servers or low-cost object storage. While for block storage, data placement is controlled by data access frequency, for file and object storage, you can regulate policies based on performance, availability, compliance, governance, amongst other requirements.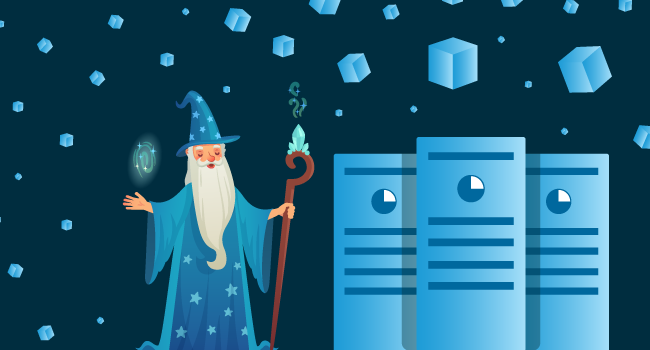 Spell 3: Economo Patronum – Make IT Cost-Efficient
Budget is always subject to argument and negotiation in the IT world. Most IT departments are cash-strapped for both hardware and software expenses and staff overheads. Getting the maximum value from minimum investment is the way to go. And how can you achieve that?
Gaining the ultimate financial flexibility: Many a time it so happens that you get boxed into buying storage equipment from a certain manufacturer. Your compulsion could be influenced by existing relationships, last-minute discounts, supply chain availability, support options, etc. But then if you are tight on budget and need to expand storage capacity, you need the flexibility to find cost-effective alternatives and integrate those storage devices into your existing infrastructure non-disruptively.
Because DataCore SDS pools together capacity from any storage device, it becomes easy to build your storage fabric the way you want.
Be empowered to replace expensive high-end storage devices with low-cost gear – for example, JBODs – without any impact on your storage services.
Gain the negotiating upper hand with your supplier now that you have other choices.
Do more with existing resources and defer hardware purchases.
Cloudy with a chance of object storage: As we saw with automated data placement using DataCore SDS, a key benefit from the economics standpoint is leveraging low-cost storage as a viable option to store and manage unstructured data in file and object environments based on business need (infrequent data access; specific age of file, file type, or file size; or any availability or compliance requirement). A good candidate for this would be cloud object storage such as AWS, Azure, or any S3-supported elastic storage. By utilizing business objective-driven criteria for data migration, inactive data can be easily moved to cloud storage. And by deduplicating and compressing the data, you get to save money from reduced storage footprint in the cloud.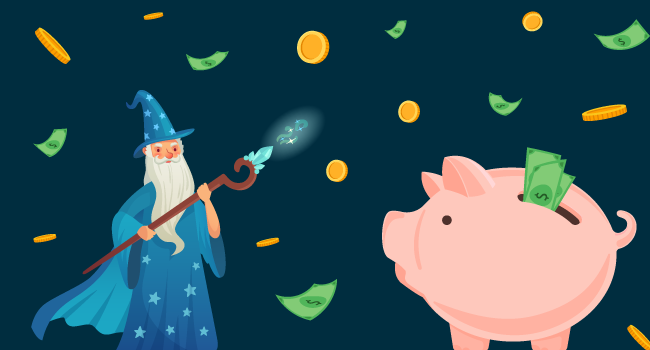 Take advantage of the magic of DataCore SDS technology and master the art of data storage management – from optimizing capacity to automating data recovery; from orchestrating data movement to enhancing storage performance; from increasing scalability to reducing IT costs. The magic lies in how you use technology to your benefit. Armed with the right means and mojo, you too can become the storage sorcerer supreme. If there can be a Wizard of Oz and Wizard of Id, there can be a Wizard of IT.
Check out the video below to learn how DataCore SDS uses storage virtualization enchantment to take control of your block, file and object storage infrastructures, and streamline data services.
Helpful Resources