If you've been following along in this series, including 17 Shocking Statistics about Disaster Recovery and Business Resiliency: Part 1 and Your Disaster Recovery and Business Resiliency Strategy: Part 2, you understand the recommended best practices of a modern, effective disaster recovery and business resiliency strategy—and what not to do.  Now it's time for a deeper dive.
Familiar Is Not Always Better
Let's start with why a traditional approach is not always optimal. Although an old school backup storage strategy might seem familiar (with its physical disk drives or tape) and appears to offer a straightforward "set it and forget it" solution, it does have several disadvantages, including:
One of the biggest drawbacks to traditional systems, with disk and tape storage, is the amount of space they consume. Organizations everywhere are being challenged with accessing, managing, storing and protecting increasing amounts of application and customer data, including global compliance mandates around what data can be retained and when data must be expired. In this traditional scenario, the more data you have to backup and store, the more real estate you require. The related costs of this type of storage increase the cost of developing a disaster recovery plan, which requires expensive offsite storage.
Backup and recovery are just a few functions that can take place over corporate networks. SAN and NAS appliances can support storage needs, but always ensuring you have the necessary bandwidth on your corporate intranet can make network planning challenging and in some cases, expensive.
The inability to archive means disk storage must always be used in tandem with tape, optical mediums, or other more permanent storage. For this reason, maintaining traditional systems can be costly and cumbersome for organizations with complex data storage requirements.
The Three Pillars of Software-Defined Storage
For an optimal disaster recovery, you should consider a software-defined storage (SDS) platform, which offers a comprehensive, modern approach to protecting your data availability and integrity.
Interested in learning more? Well read on to discover the three distinct tiers or service capabilities SDS has to offer:
Asynchronous Replication: Provides data protection and availability in the event of a natural disaster by continuously updating remote copies with no impact to local performance and:

Updates remote storage arrays, wherever they are, with no impact to local performance
Uses standard IP-based links
Optimizes bandwidth via compressed, multi-stream transfers & prioritized QoS
Allows for test readiness non-disruptively
Continuous Data Protection: Helps protect against security breaches by letting you return to any-point-in-time without explicit backups and:

Restores arbitrary point-in-time within a 14-day period
Logs and timestamps all I/Os to the selected virtual disks
Has no need to interrupt applications
Has no host agents required
Is easy to enable and revert from
Creates known-good restore points
Sync Mirroring: Delivers real-time I/O replication for continuous availability and:

Eliminates storage as a single point of failure
Enhances survivability using physically separate nodes
Updates distributed copy simultaneously
Mirrored virtual disks behave as one, multiported shared drive
Synchronous mirroring enables you to present a single virtual disk to applications and lets you do stretch clustering with zero touch failover. Therefore, if you face a disaster situation your infrastructure will seamlessly fail-over to standby datacenters. You'll also want a vendor who can do active site replication over the WAN for disaster recovery to protect data across broader regions, across coasts or between continents.
Synchronous mirroring not only provides resiliency against outages, but also provides flexibility during maintenances to avoid the typical planned downtime scenarios. The result is zero interruption for applications due to storage-related downtime.
Avoid Downtime with a Software-Defined Storage Platform
While disaster recovery solutions are essential, even more essential is the solution that avoids the disaster of any downtime altogether.
Here's the recap of the best-in-class SDS platform:
Fast, simple, remote-site disaster recovery and migration
Update distant copies without impacting local performance
Protect your data and return to any point-in-time without taking explicit backups
Real-time I/O replication for continuous availability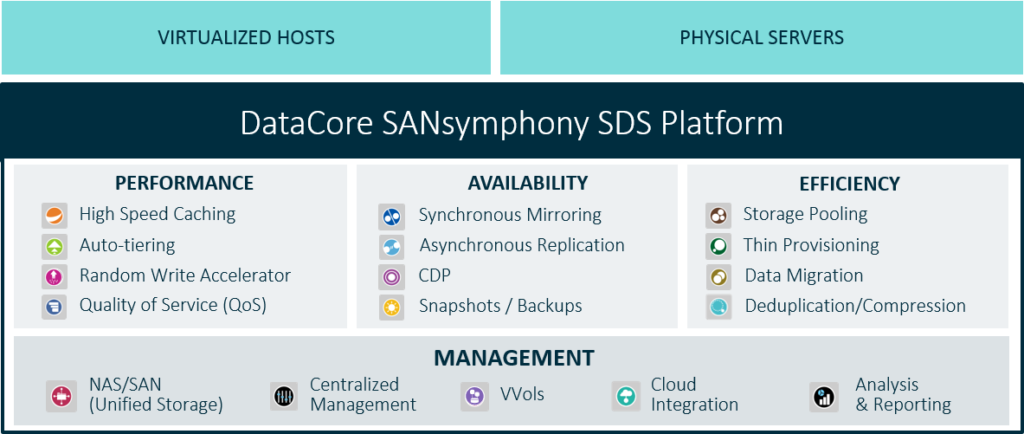 Stay Tuned
Next in this series, we'll explore how SDS gives you availability, performance, efficiency and easier management across all types of storage types, including physical servers or virtualized hosts in a hyperconverged infrastructure, SAN or in the cloud.
---
Watch a Demo
Interested in seeing more of what SDS has to offer? Schedule a 15-minute live demo with one of our Solutions Architects today!