Modern applications running on Kubernetes demand high-performance persistent storage services that respond quickly to change. Legacy storage systems are unable to keep up with today's fast-paced software delivery pipelines, and can cause operational slowdowns and high wait times.
DataCore Bolt is an enterprise-grade Kubernetes storage platform that delivers data persistence for cloud-native and container ecosystems. Designed as software-defined storage that automates provisioning and management at scale, Bolt leverages the benefits of NVMe to enable enhanced performance for stateful applications.
Built by K8s pros for K8s pros, Bolt Kubernetes storage provides the data abstraction layer that allows you to self-provision PVs on-demand
Convert your disaggregated storage infrastructure into a performance powerhouse to support latency-sensitive applications
Streamline your journey to the cloud-native data center with hyper-scale agility and smart automation
Easily integrate Bolt into your existing Kubernetes frameworks and DevOps toolchain and unlock the full potential of container-native storage
Ensure a consistent environment (data persistence) for code build, test, and deployment
Unlock greater CI/CD efficiencies to meet your SLAs and optimize release cycles
Automate storage and data services management while reducing costs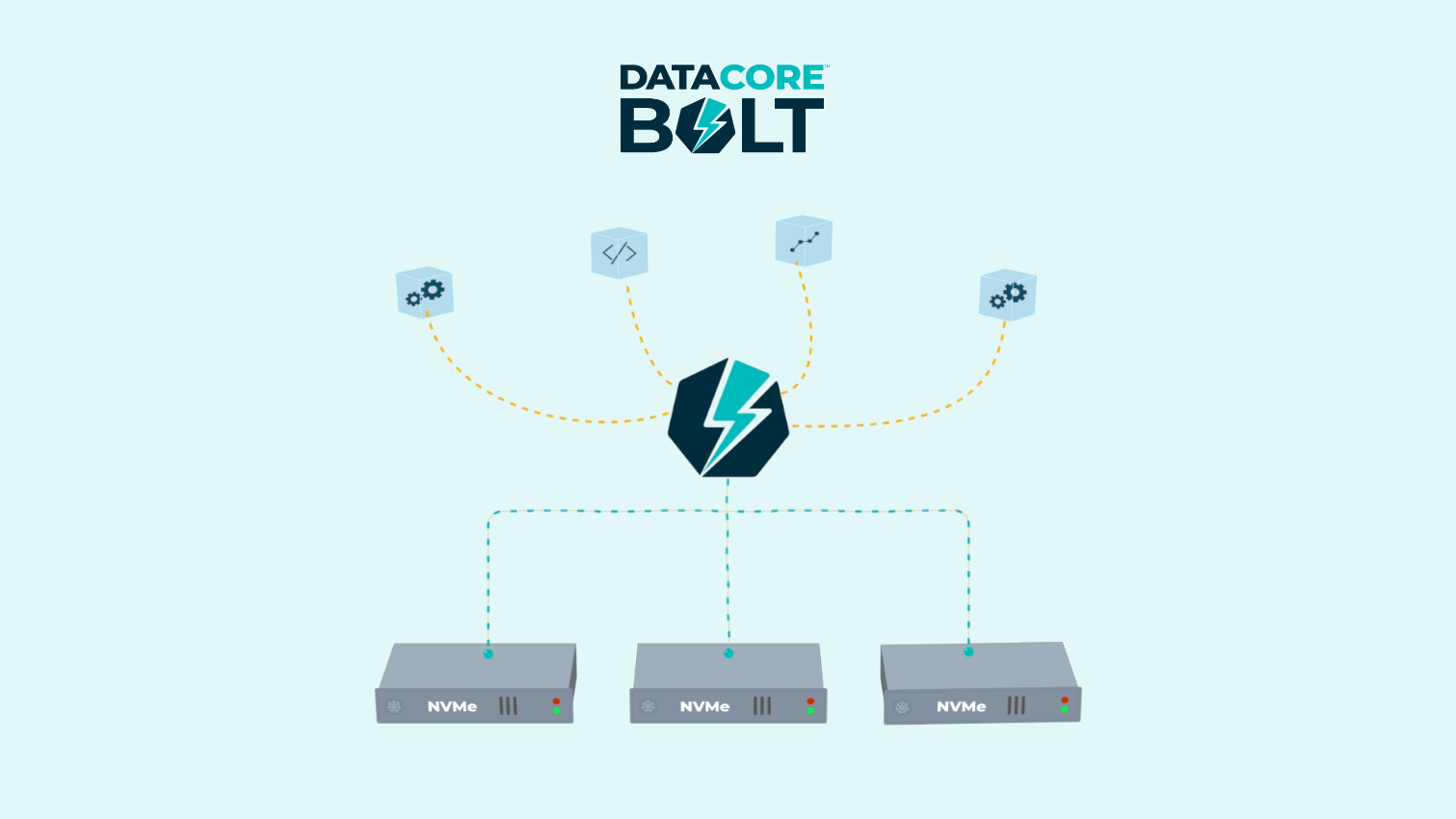 Container-Native Storage
for DevOps
Learn how Bolt helps optimize storage for
CI/CD workflows
Watch Video
Features
Dynamically provision volumes from storage pools using standard Kubernetes persistent volume claims and storage classes
Scale easily vertically and horizontally based on your storage capacity needs
Using NVMe semantics throughout the data path, Bolt minimizes latency and overhead when accessing high-performance block storage devices
Acts as a centralized cloud-native declarative control plane that manages persistent volumes for cluster operations
Leverage volume replicas within the cluster to protect against hardware failures and data loss
Uniform high-end data services automation across diverse storage equipment (any make or model)
Integrates with your existing Kubernetes tools and frameworks (through APIs, CLI)
Integrates with monitoring tools (such as Prometheus) providing logs and metrics for observability
Benefits of Kubernetes Storage
Management Simplicity
Replace complex storage management with native Kubernetes automation
Doesn't require complex storage knowledge or specialized skills
Make Dev and Ops easier with software-defined storage management and data services
Improved Performance
Leverage the benefits of NVMe and NVMe-oF to achieve high throughput for low-latency applications
Run stateful workloads at scale and deliver rapid and easy scaling of capacity and performance
Reduce time-to-market for app development projects
Flexibility Without Compromise
Provision volumes by pooling storage from any NVMe-enabled storage hardware (HDDs/SSDs)
Ensure portability of storage services by removing kernel/OS dependencies
Enhance data resilience though volume replication across K8s nodes
Deployment
DataCore Bolt is available as an easy-to-deploy and simple-to-use software package, which can be deployed in just a few minutes on any node (bare metal, virtual, or cloud-hosted) in your Kubernetes cluster.
Bolt is completely platform-independent supports any NVMe-powered storage hardware providing storage to your Kubernetes nodes.
Once deployed, Bolt abstracts the disk attached to the node and creates a storage pool. Use conventional declarations to claim persistent volumes which are logically partitioned and provisioned to pods just like any other resource. Leverage volume replicas within the cluster to protect against hardware failures and data loss. These simple steps facilitate the deployment and release of production-ready software while enabling enterprise-scale agility.
Request a Free Trial of Bolt Software:
Kubernetes Storage for Cloud-Native Apps