Transform data into insight and information into intelligence with the power of analytics and machine learning.
Everything runs on data in today's digital economy. In this data-driven world, ensuring your business data is securely stored, highly available, and rapidly accessible on your storage devices is mission critical. As with any IT hardware, storage infrastructure is also prone to failure, performance slowdowns, and capacity exhaustion, each of which adversely impacts data processing in the back-end and disrupts business continuity in the front-end.
It is the responsibility of any IT organization to efficiently manage their storage infrastructure, adequately plan for capacity expansion, and implement robust data protection and business continuity practices. This is where storage analytics comes to your aid.
Metamorphosis of Information into Intelligence
There is a wealth of information contained in the KPIs obtained from your storage infrastructure, such as IOPS, bandwidth, faults, latencies, etc. which help understand health and performance status. Operational data such as capacity allocation and usage, device configuration, and inventory details provide additional context about the storage devices.
Collecting and analyzing this infrastructure data over time can reveal resource usage trends, anomalies, and patterns of failures which help forewarn of impending issues and preemptively avert them before any performance impact. Machine learning techniques can process all this data and transform the information contained in them into intelligence. Storage analytics tools incorporate AI/ML algorithms to process historical and current data to forecast trends and predict problems. The effectiveness of analytics typically depends on the volume and variety of data collected, frequency of telemetry, and retention period.
In this blog, we will look at four different types of analytics that are available with DataCore Insight Services (DIS), a purpose-built data storage analytics solution that helps IT teams gain actionable intelligence to troubleshoot storage bottlenecks, preclude performance-impacting problems and improve decision-making on capacity planning and storage expansion. Let's dive in and understand the importance of all four types of analytics.
#1 Descriptive Analytics
This is the simplest form of analytics where chunks of aggregated data are processed and condensed into useful nuggets of information which are descriptive of an insight. From the combination of historical and real-time data gathered from the virtual storage infrastructure managed by DataCore SANsymphony software-defined storage solution, DIS provides many descriptive insights. For example, whether a virtual disk has failed, a latency threshold has been exceeded, a disk pool is running out of capacity, remote replication is stuck, a snapshot has failed, there is link error on a server port, etc. Alerts can be set up to notify of issues happening in real-time. For a given time period in history for which data is retained, analytics can also be run to highlight issues that happened in the past.
In the example below, DIS uses the power of descriptive analytics to rank the most active hosts and vDisks in your storage infrastructure to help you understand the I/O impact on your busy devices. As you can see, individual sensors collected from different hosts and disks have been relationally analyzed to present this meaningful and actionable information.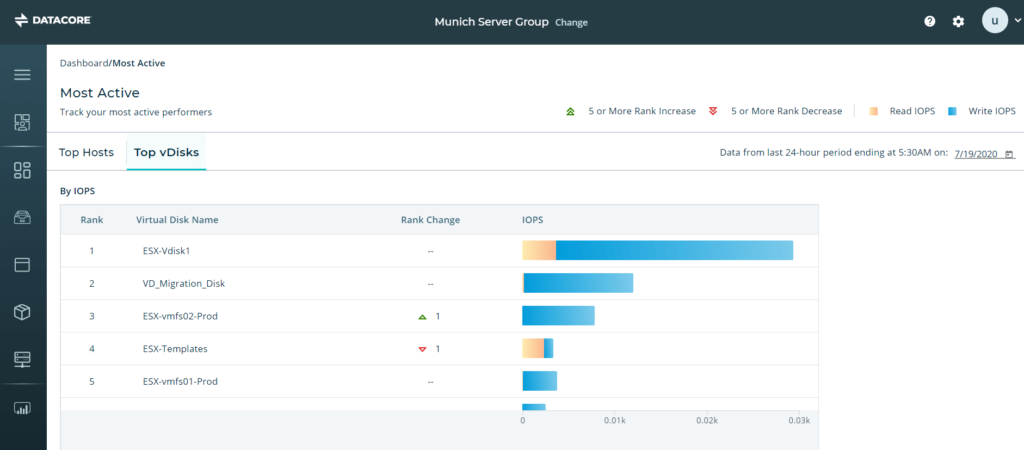 Descriptive analytics transforming raw data into meaningful insight
#2 Predictive Analytics
This is the need of the hour for all IT teams: the ability to know in advance an issue is going to happen so that it can be prevented without impacting data access and storage performance. Based on the capacity utilization metrics collected from SANsymphony nodes over time, DIS leverages its machine learning capabilities to highlight patterns and extrapolate the numbers based on deterministic factors to a future timeline in order to deliver forecasts. This is very helpful to answer capacity-related questions and subsequent decision-making that storage administrators are faced with all the time.
"86% of IT professionals feel that predictive analytics is important in simplifying and automating storage management"
Based on the current workload:
When will my storage pool run out of space?
When should I add additional capacity to my storage pool?
When should I start budgeting for new hardware purchase?
Is it time to reclaim unused storage capacity from other available disks to meet the depleting space on my current device?
Visualize predictive analytics on intuitive trend graphs that easily delineate current usage pattern and expected growth in the future.
Typically, countless hours are consumed in manual data collection, guesstimating growth, and presenting a forecast. All this effort can be saved by automating predictions with the help of storage analytics.
#3 Prescriptive Analytics
Prescriptive analytics is the next stage of descriptive and predictive analytics wherein based on intelligence gained, the analytics tool presents suggestions and recommendations to fix the problem by taking corrective/preventive measures. DIS incorporates the collective knowledge of the community of DataCore users around the globe. Based on years of experience in encountering storage issues such as failures, configuration anomalies, resource contention, etc., DIS includes a myriad of best practice recommendations provided in context of insights. Storage administrators can follow these steps to resolve the problem/alert that they are running into.
Example 1: When running out of storage space in the storage pool, DIS would give you recommendations to proactively optimize existing capacity for maximum utilization.

Example 2: When encountering a high I/O latency issue, DIS uses descriptive analytics to present the details of the issue and then goes on to provide prescriptive analytics to allow the storage administrator to resolve the issue.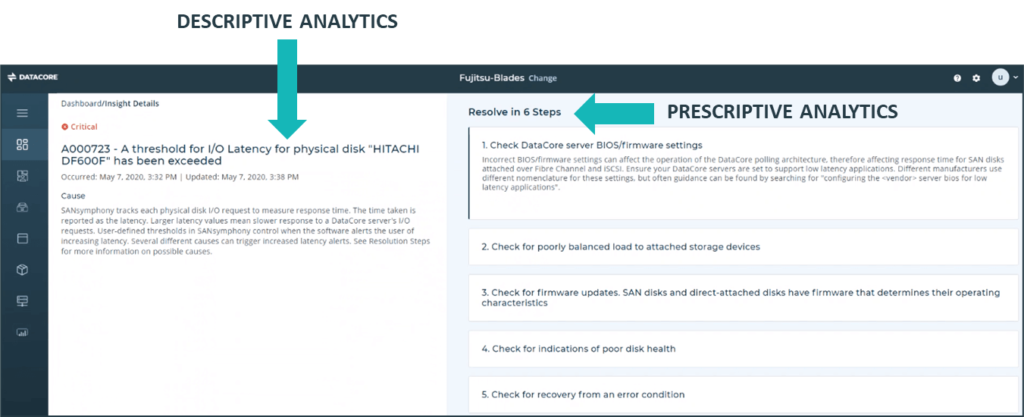 This also helps reduce your outreach for support requests to either DataCore or your storage vendor as you are now empowered with actionable analytics to resolve commonly encountered storage-related issues.
#4 Diagnostic Analytics
At the heart of troubleshooting is diagnosis. Only when a problem is diagnosed properly and root cause identified, can it be triaged effectively. Diagnostic analytics takes a deeper look at data to understand the root cause of the events and is helpful in determining what factors and events contributed to the outcome.
DIS includes analytics to help correlate problem patterns with anomalous events to help locate the cause of the problem.
Is storage performance slowdown related to high I/O activity or is the storage controller not configured properly?
Why is capacity running out soon on primary storage? Are there unserved virtual disks consuming space? Is there inactive (or infrequently accessed) data getting stored on the device tying up space better suited for active data?
Why is synchronous mirror failing: Is it because of a inter-campus link failure?
The example below shows DIS analyzing whether disk pools are optimally configured across tiers. Especially during data tiering, it is important to provision capacity to storage tiers in accordance with how much hot/warm/cold data is getting stored on the devices. The performance summary in the pattern below shows that hotter data is getting stored on tier 2 (not the fastest storage) because tier 1 (fastest storage) seems to be fully allocated. Diagnosis by DIS reveals this as the reason for sub-optimal performance. The prescriptive part of the analytics (suggested actions) provides the recommendation to add more storage capacity to tier 1 to ensure all the hot data gets placed on and accessed from it.
The Devil is in the Details: Analytics, in conjunction with machine learning and AI capabilities, can revolutionize how you plan, implement, and manage enterprise storage. With the right insights and intelligence by your side, you can be well-informed to improve capacity utilization, eliminate performance bottlenecks and optimize workload placement. Ask your DataCore partner about DataCore Insight Services (DIS) today!
Note: DIS is a complementary add-on analytics tool available with DataCore SANsymphony software-defined storage solution term licenses. Benefit from the power of data storage analytics in combination with industry-leading vendor-agnostic storage management capabilities from a unified command and control plane.
Helpful Resources