A Crowdsourced IT Comparison Community
DataCore recently announced that it received the highest rating for a software-defined storage (SDS) offering in a new in-depth, independent evaluation by WhatMatrix. This rigorous technical assessment evaluated DataCore with more than 20 offerings in the SDS/hyperconverged infrastructure market from leading vendors such as Cisco, Dell/EMC, HP Enterprise, Microsoft, Nutanix, Simplivity, and VMware. DataCore also achieved second place in the overall software-defined storage/hyperconverged infrastructure (HCI) combined category, coming just behind Nutanix.
As the first crowdsourced-powered IT comparison community, WhatMatrix's mission is to provide a platform driven by visitor demand and IT community collaboration. By providing curated, free and "always-online" technology comparisons by respected industry experts, WhatMatrix significantly reduces the time and cost spent on researching the technologies needed to solve today's business challenges.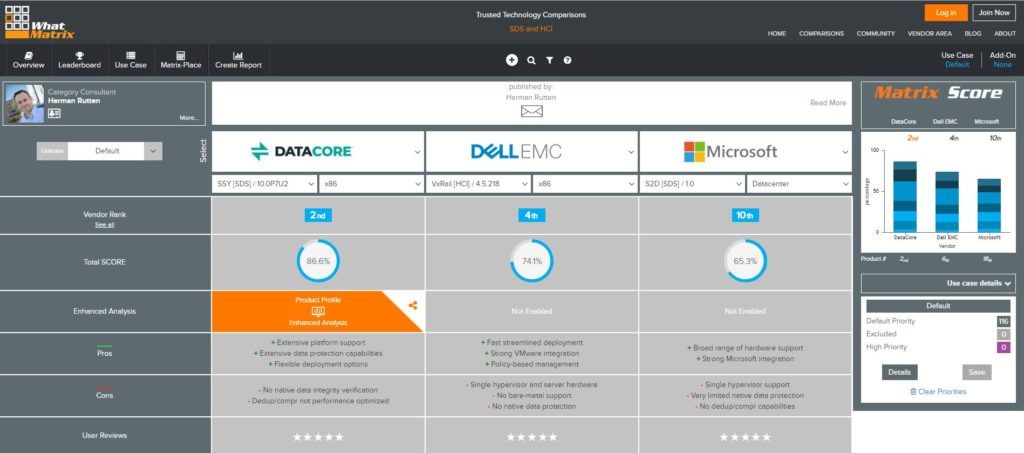 The WhatMatrix Evaluation
The evaluation process, covering 108 areas, has taken more than 3 months. Throughout the process, WhatMatrix has asked detailed information and proof of any claims made. Several DataCore technical experts participated in the process to resolve the questions of the WhatMatrix team.
"

We conducted a rigorous, independent evaluation of DataCore for our combined SDS/HCI category

"

Herman Rutten, WhatMatrix Consultant
Featuring a rich set of automated data storage services, automation and unmatched performance driven by adaptive Parallel I/O technology, DataCore offers powerful benefits that are loved by its customers as validated in independent surveys. These include infrastructure-wide management from a single console, and a robust, hardware-agnostic solution that can be deployed in multiple different configurations to best serve customer use cases (hyperconverged, hybrid-converged, cloud, converged server SAN and storage virtualization). DataCore works with any storage hardware that is already deployed, and future-proofs investments as new storage technologies are introduced and cloud adoption continues to grow.
"We conducted a rigorous, independent evaluation of DataCore for our combined SDS/HCI category," said Herman Rutten, category consultant, WhatMatrix. "In a comparison of nearly 100 rated criteria, DataCore has emerged as a category leader in the SDS space, a testament to their long standing innovation in this market."
Click here to review WhatMatrix's complete report in the SDS and HCI market!
---
Interested in seeing more?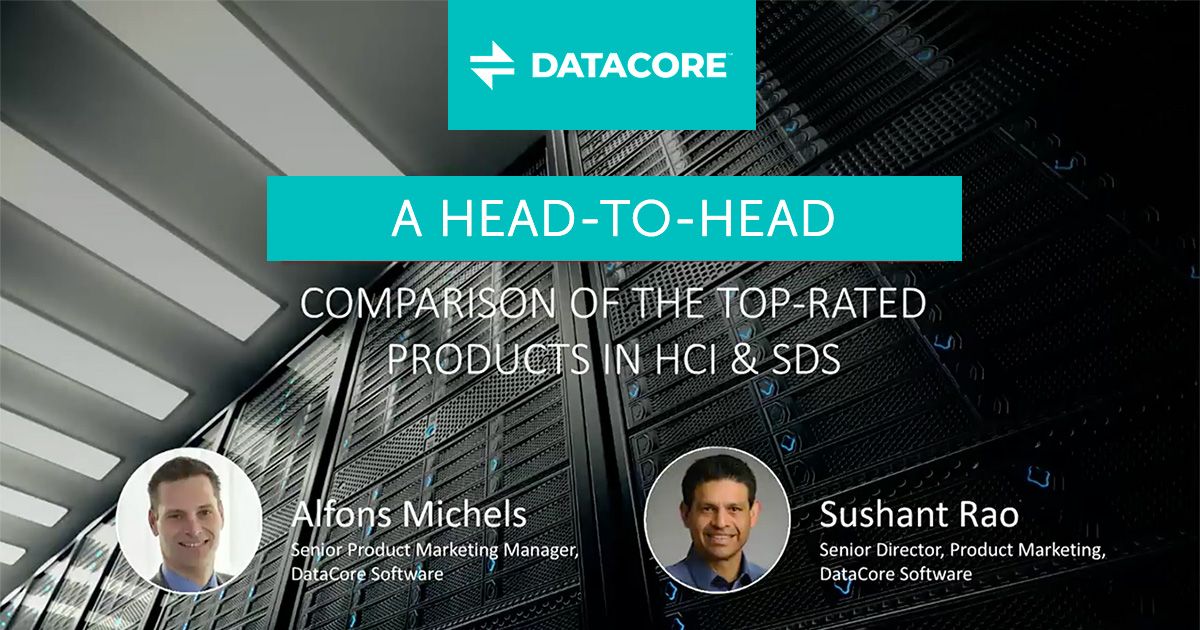 Then check out this webinar that dives head on into comparing some more of the top HCI and SDS products on the market as well – A Head-to-Head Comparison of the Top-Rated Products in HCI & SDS.