We all care for what's most precious to us. In a business context, data is considered the digital currency in today's information-centric world. Organizations need to care for it, protect it, manage it, access it easily on-demand, and preserve it for future use. This is easier said than done. With evolving business needs, unpredictable infrastructure behavior, looming outages and security threats, it's hard to maintain service levels, let alone care for your data.
20+ years of time-tested domain expertise helping customers solve storage-related problems has won us the trust of thousands of brands worldwide across industry verticals. We have proven time and again that businesses can rely on us to keep their data always available, accessible, and protected. Acknowledged by industry analysts, vouched for by our partners, and used contentedly by customers, we are here to care for your data.
Our world-class engineering team continues to innovate with best-of-breed software-defined storage products supporting your traditional on-prem workloads, edge deployments, and cloud-native applications. Whether you have data running on bare metal servers, virtualized infrastructure, in containers, or in the cloud, you can rest assured that our support team has you well covered. We let you focus on more important IT initiatives by simplifying and automating storage services.
95%
CSAT Rating
(For Closed Support Calls)
73
Net Promoter Score (NPS)
(70+ NPS → World-class Support)
98%
Customer Satisfaction
(Customer Survey)
Our Data Care Secret Sauce: Hardware-Agnostic Software-Defined Storage
DataCore pioneered storage virtualization for SAN environments a long time ago. Since then, we have advanced our software-defined storage technology to support your evolving IT infrastructure needs of today and tomorrow.
By abstracting all the software-based storage services from the underlying hardware, software-defined storage can easily simplify how storage is managed – from pooling capacity across diverse devices, to provisioning on-demand; from executing uniform data services across heterogeneous storage gear to applying custom protection policies. DataCore lets you cut down repetitive manual storage tasks and instead rely on hardware-agnostic, automated data services to improve operational efficiency, data availability, and performance.
How We Care: Solving Your Most Pressing IT/Storage Challenges
DataCore offers cutting-edge software-defined storage solutions to address your critical IT initiatives.
DataCore delivers the flexibility to adapt and modernize your data center without being locked into a particular hardware vendor or technology. Adopt new technologies alongside existing equipment to maximize their collective value – and do so without delay or disruption to business services.
DataCore's purpose-built software-defined storage products allow businesses to overcome key IT challenges saving the IT organization time, effort, and money which can be better invested in new IT initiatives and higher priority tasks. By letting DataCore care for your data, you benefit from improved business outcomes, higher ROI, and lower storage TCO.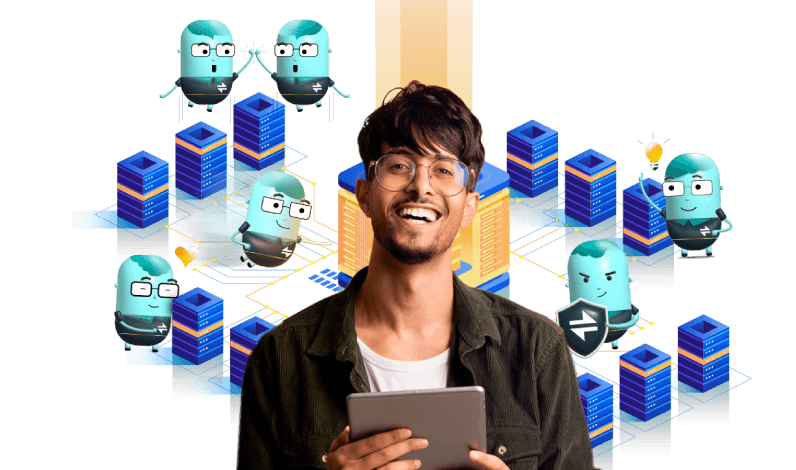 While "DATA" is "CORE" to our name (DATACORE), "DATA CARE" is part of our DNA and how we do things. We care for our customers; we care for your data; and we care that enterprise, service providers, and the IT community at large benefit from our solutions. Contact us today and talk to our experts on how our software-defined storage solutions can help you.
Data Care in the Real World:
Customer Success Stories
Helpful Resources