In an earlier blog, we saw how partnering with DataCore benefits cloud service providers (CSPs). DataCore's software-defined storage (SDS) solutions are proven across diverse and dynamic storage environments and let you leverage your existing hardware assets to maximize utilization and seamlessly integrate new technologies for continuous services without disruption. The exclusive licensing model that DataCore offers for service providers flexibly adapts as your business changes. The attractive price/TB per-month consumption-based licensing makes it easy to control IT spend based on your business outcomes.
In this blog, let's dig a bit deeper into the SDS solution for block-based SAN and HCI environments – DataCore SANsymphony – and understand how to leverage the product as part of your hosted -as-a-service offerings (for example, SaaS, IaaS, BaaS, DRaaS, STaaS, etc.).
SANsymphony's hardware-agnostic approach frees you from hardware vendor lock-in and provides ultimate flexibility in how you can manage, build, and modernize your storage infrastructures for maximum performance and availability. For performance-hungry databases and application workloads on SAN and hyperconverged storage, SANsymphony can radically improve the reliability and resilience of your infrastructure and, as a result, improve quality of service for your customers. SANsymphony ships with many enterprise-class data services that allow you to further expand your service offerings and grow your business.
Smart Capacity Provisioning and Utilization: Virtualize storage across diverse hardware devices (from any make/model) and create multiple storage pools to segregate services and cater to different customer needs. Reclaim stranded capacity across different storage systems and maximize utilization of existing capacity.
Additional capabilities like thin provisioning help to further optimize your business outcome. You can virtually overcommit resources to your clients using thin provisioning without initially allocating as much physical storage space. This allows you to bill your clients for the logically allocated higher capacity and increase your bookings.
Simplified Storage Lifecycle Management: With the storage pool in place, easily add/change/decommission storage equipment without incurring costly data migrations, storage downtime, or business impact to end-customers. Because there is the flexibility to use hardware from any vendor, you can also gain the upper hand in pricing negotiations with hardware suppliers.
Ease of Infrastructure Modernization: Evolve and modernize your storage infrastructure through seamless technology upgrades – disrupt without disruption and expand your service offerings. Replace slow storage gear with faster equipment, switch to hyperconverged storage when needed, integrate new technologies like NVMe and Intel Optane seamlessly, and more.
Storage Performance Improvement: Extend the life of existing hardware with performance enhancements and advanced data services, which directly improves your customers' user experience. Capabilities like automated data tiering, parallel I/O processing, leveraging RAM as cache, etc., help improve the responsiveness of storage equipment.
Single Pane of Glass for Managing Diverse Storage: Without having to shuffle between management tools from different storage vendors, SANsymphony can be your one-stop shop for vendor-agnostic data services, guaranteeing constant and high service levels.
Resilient Storage with Automated Failover and Recovery: Use any choice of storage equipment to form BC/DR configurations for data protection. Employ synchronous mirroring and asynchronous replication techniques to copy data from one storage system to another (locally or to a DR site) and leverage failover and failback automation for recovery in case of an outage or disaster.
Build an agile and future-ready infrastructure with your choice of storage hardware and create a shared pool of resources to efficiently serve customer needs regardless of whether you are delivering hosted services.
Join Our Exclusive Service Provider Partner Program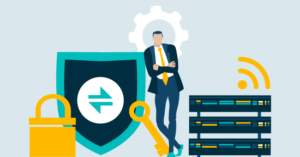 Join our exclusive network of CSPs and leverage our competitive pay-per-use subscription pricing and flexible licensing models that allow scaling up and down based on capacity consumption. As a DataCore-powered CSP, you can enhance your customers' data experience by achieving greater data availability and seamless accessibility.
Reduce costs with affordable service provider-friendly licensing
Optimize business outcomes through smart resource utilization and increased storage efficiency
Improve SLAs with uniform high-end capabilities of SDS across multi-vendor hardware
Increase revenue by offering value-added data services to your customers
Contact DataCore and learn more about our special programs for service providers.
Helpful Resources