In the data center world, speed isn't just another number. It directly relates to user productivity, application performance, and IT operational efficiency. The faster your storage powering your applications is, the better it is for your business. Typically, organizations tend to move from spinning disks to all-flash arrays in order to improve storage speed and responsiveness. Intel® has upped the game with its new Optane™ technology, which gives IT teams a superior alternative to choose over traditional SSDs.

Intel Optane is based on 3D XPoint™, a storage and memory technology that is an order of magnitude faster than traditional NAND flash and guarantees greater endurance. Depending on its application and usage, Optane is built into and used as a persistent memory component for servers (can be plugged into standard DIMM slots), or an SSD with pre-defined capacity that can serve as a standalone storage tier. Optane SSDs use the NVMe storage protocol for data access. There are various models and specifications available from Intel to choose from. If you are running big data or transactional workloads, in-memory databases, machine learning workloads, etc., Optane can be a game-changer in delivering greater IOPS and lower latency.
The illustration below indicates how Optane-powered SSDs are typically stacked based on speed and performance. As you can clearly see, Optane storage is placed much higher than HDD/tape and flash-based SSD.
DataCore offers software-defined storage solutions for that enable IT teams to manage how their data is stored, protected, and accessed across hybrid and heterogeneous storage infrastructures – from HDDs to SSDs, SAS/SATA to NVMe, Fibre Channel to iSCSI, and more. By becoming your central storage control plane, DataCore delivers the ultimate flexibility to design and manage your storage infrastructure the way you want, whereby enhancing performance, optimizing capacity, improving efficiency, and reducing costs.
Intel Optane and DataCore Software-Defined Storage: Revolutionizing Performance for the Modern Data Center
DataCore has partnered with Intel to enable adoption of Optane-powered SSDs into any storage deployment (SAN, NAS, DAS, HCI or a mixture of these) so that organizations can benefit from Optane's high-speed data processing capabilities while managing data placement and performance through DataCore.
Learn more DataCore and Intel technology alliance.
Easily Incorporate Intel Optane into Your Storage Environment
Integrating new storage technology into your current infrastructure may require much manual effort and potential downtime for the applications (considering the time taken to set up new configurations). This process can be especially complex, costly, and time-consuming when migrating data from an old storage device to a new one.
DataCore makes it a breeze to add new storage tiers or change/upgrade an existing tier. By virtualizing your storge infrastructure (any device from any vendor), DataCore abstracts and uncouples the storage resources from the underlying hardware. Storage capacity from the virtualized storage tiers is then aggregated into virtual storage pools. This helps eliminate storage silos and 1:1 application-to-storage mappings which, to the benefit of IT teams, makes it easy to add new storage devices to the pool without the application knowing about the storage changes happening under the hood. DataCore then enables data to be migrated from the old storage device to new one seamlessly and non-disruptively.
From the comfort of a single storage management interface, you can integrate Intel Optane SSDs into your existing storage infrastructure and make it a part of the storage pool simplifying resource provisioning, capacity optimization, and load balancing.
Automate Data Tiering and Make Optane Your Fastest Storage Tier
DataCore uses automated data tiering to help regulate data placement across diverse storage classes. Considering the speed and performance of Intel Optane devices, you can make that your fastest storage (tier 1) where your hot data gets written to. Using machine learning algorithms to understand data temperatures, DataCore automatically places most frequently accessed data to your tier 1 storage (Optane SSDs) and moves less-frequently accessed data to lower tiers which could be slower and/or lower-cost storage. For example, if you are using flash-based SSDs in conjunction with Optane devices, you can make that your tier 2 storage which stores warm data. Any cold data, such as backup, snapshots, archives, etc., can be moved to slower SAS- or SATA-based HDDs. Data tiering is an ongoing process where storage tier assignments change dynamically based on data temperatures observed by DataCore in real time. Based on intelligence gathered, data is moved back and forth accordingly without requiring any manual intervention.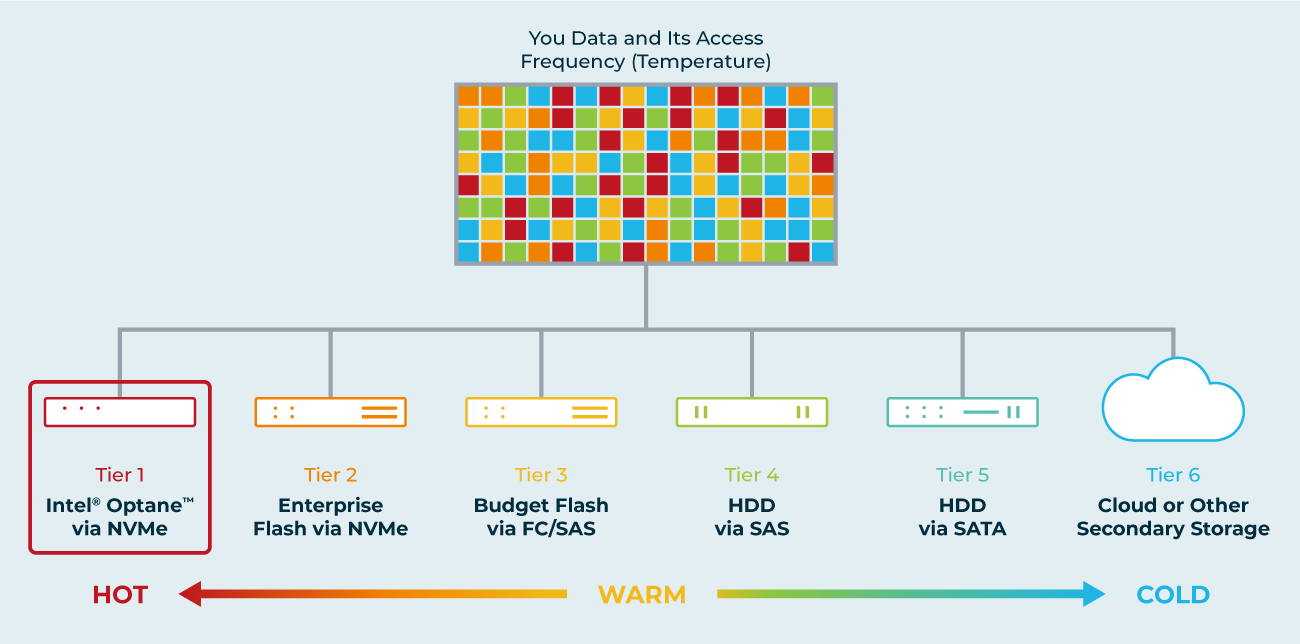 Automated data tiering using DataCore enables storing hot data on the high-speed Intel Optane-powered storage
Speed Up I/O Processing
DataCore SANsymphony software has the capability to leverage the DRAM available as L1 cache to increase the speed of I/O reads and writes. SANsymphony supports up to 8TB of RAM per node for caching, which increases the I/O processing exponentially, thereby facilitating faster application response.
Gain unmatched performance on Optane storage devices over traditional fabrics without having to move to the unexplored territory of NVMe-oF connections. Normally the translation from traditional iSCSI and FC protocols towards NVMe-connected SSDs and back limits flash and Optane performance. This is due to the limited parallelism and queueing abilities in the storage controller layer. The tests we conducted to measure the performance of Optane SSD with SANsymphony demonstrate our ability to preserve Optane speeds for applications connected via traditional Fibre Channel.
IT teams can benefit from higher IOPS and lower latency without the need to rearchitect applications and their entire Storage Area Network towards NVMe-oF to leverage the speed of Optane. The tight integration between SANsymphony and Optane allows Optane drives to be directly included in the SANsymphony instances via NVMe, and designating them as the fastest persistent storage tier. The applications and other storage systems can remain connected to SANsymphony via traditional fabrics, FC and/or iSCSI.
In addition to this, SANsymphony's parallel I/O processing and sequential optimization of random writes can be used alongside Intel Optane to further augment performance.
Making Your Storage Fast Again
The synergy between Intel Optane storage and DataCore delivers to IT teams a hardware and software combo that guarantees breakthrough speed, enhancing data accessibility and application responsiveness. DataCore software-defined storage solutions enable you to easily integrate Optane SSDs to your infrastructure and achieve improved throughput and greater resilience.
Modernize your data center with new technologies without any disruption to business operations
Achieve speeds faster than regular all-flash arrays alone: Go turbo!
Maximize the value of your existing storage investments and control IT spending
Automate data storage management tasks that cut down on manual efforts and improve operational efficiency
Reach out to DataCore or contact Intel to learn more about the respective solutions and how they can work together for improved storage performance in your environment.
Helpful Resources