The simplicity of hyperconverged infrastructure with the flexibility of software-defined storage
As customers increasingly adopt HCI products for their ease of deployment, reduced complexity, scalability, and simplified approach to moving and assigning virtual resources to workloads, they often overlook its challenges with fixed scaling, creating new silos, and vendor, technology, or architectural lock-in.
The DataCore HCI-Flex appliance includes the simplicity of HCI with the ultimate flexibility of software-defined storage (SDS) along with DataCore's deep SDS expertise and award-winning customer service.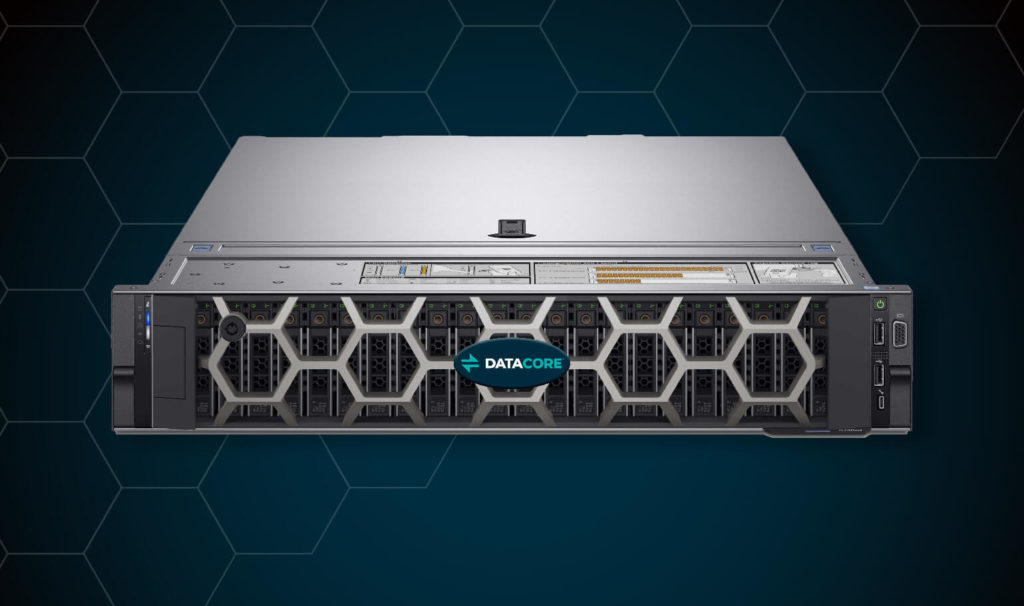 Unparalleled Flexibility
Leverage internal and external storage regardless of vendor or underlying technology
Faster Time to Value
Accelerate deployment with simple, automated deployment in both ESXi and Hyper-V environments
Simplified Management
A single-click console is fully integrated with vCenter deployment and ESXi management
Performance that Scales
Scale up and out up to 64 nodes with minimal performance degradation
Cost-Optimized High Availability
Achieve true high availability with only 2 nodes using synchronous mirroring
Increased Storage Efficiency
Optimize diverse IT environments with storage pooling, auto-tiering, and data migration
Powered by DataCore Software-Defined Storage
OPTIMIZED PERFORMANCE
Parallel I/O
Process I/O in parallel vs serially for increased application performance up to 10X
Caching
Accelerates disk I/O response and uses CPU cache/RAM as "mega cache"
Random Write Accelerator
Eliminates random write performance penalty and provides SSD-like performance from HDDs
Auto-Tiering
Automatically sets tier assignments based on policies, with support for up to 15 storage tiers
Load Balancing
Auto balances I/Os across devices and bypasses failed/offline channels
Quality of Service (QOS)
Limits I/O traffic from lower tier workloads and enables critical apps to run faster
INCREASED STORAGE EFFICIENCY
Storage Pooling
Splits tiers based on price/perf/ capacity and eliminates stranded disk space
Deduplication/Compression
Replaces duplicates with pointers to single, compressed instances
Data Migration
Clears and reclaims space with zero downtime migrations
Thin Provisioning
Occupies only space being written to and dynamically allocates more space as needed
ALWAYS-ON AVAILABILITY
Replication & Site Recovery
Bi-directional asynchronous replication for disaster recovery and rapid restoration
Continuous Data Protection
Restore to any point in time without application interruption
Encryption
XTS-AES 256-bit encryption for data-at-rest that is storage-device independent
Synchronous Mirroring
Maintains data in two places eliminating storage as a single point of failure
Snapshots
Recover rapidly at disk speeds while eliminating extended backup windows
DATACORE HCI-FLEX MODELS
Choose the best solution that fits your unique business needs.
| Models | Processor Specs | Memory | HDD | SSD | CAP | NIC |
| --- | --- | --- | --- | --- | --- | --- |
| HCI-Flex 3, 1U HYBRID | 2x Intel Xeon Silver 4110 2.1G, 8C/16T, 9.6GT/s 2UPI, 11M Cache, Turbo, HT (85W) | 64GB – 384GB | 3×2.4TB | 2x480GB | 5TB | RJ45 or SFP+ |
| HCI-Flex 3, 1U SSD | 2x Intel Xeon Silver 4110 2.1G, 8C/16T, 9.6GT/s 2UPI, 11M Cache, Turbo, HT (85W) | 64GB – 384GB | | 4x960GB | 3TB | RJ45 or SFP+ |
| HCI-Flex 5, 1U HYBRID | 2x Intel Xeon Gold 5118 2.3G, 12C/24T, 10.4GT/s 2UPI, 16.5M Cache, Turbo, HT (105W) | 128GB – 384GB | 6×2.4TB | 2x480GB | 10TB | RJ45 or SFP+ |
| HCI-Flex 5, 1U SSD | 2x Intel Xeon Gold 5118 2.3G, 12C/24T, 10.4GT/s 2UPI, 16.5M Cache, Turbo, HT (105W) | 128GB – 384GB | | 8x960GB | 6TB | RJ45 or SFP+ |
| HCI-Flex 7, 2U HYBRID – 192GB* | 2x Intel Xeon Gold 6152 2.1G, 22C/44T, 10.4GT/s 2UPI, 30.25M Cache, Turbo, HT (140W) | 192GB – 768GB | 11×2.4TB | 2x480GB | 20TB | RJ45 or SFP+ |
| HCI-Flex 7, 2U HYBRID – 384GB* | 2x Intel Xeon Gold 6152 2.1G, 22C/44T, 10.4GT/s 2UPI, 30.25M Cache, Turbo, HT (140W) | 384GB – 768GB | 11×2.4TB | 2x480GB | 20TB | RJ45 or SFP+ |
| HCI-Flex 7, 2U SSD – 192GB* | 2x Intel Xeon Gold 6152 2.1G, 22C/44T, 10.4GT/s 2UPI, 30.25M Cache, Turbo, HT (140W) | 192GB – 768GB | | 16x960GB | 13TB | RJ45 or SFP+ |
| HCI-Flex 7, 2U SSD – 384GB* | 2x Intel Xeon Gold 6152 2.1G, 22C/44T, 10.4GT/s 2UPI, 30.25M Cache, Turbo, HT (140W) | 384GB – 768GB | | 16x960GB | 13TB | RJ45 or SFP+ |
* Only HCI-Flex 7 supports Fibre Channel
| Options | CAP |
| --- | --- |
| KIT, HARDDRIVE, (3) 2.4TB HARD DRIVES + SW + 3Yr SUS | 5 |
| KIT, HARDDRIVE, (4) 960GB SSDS + SW + 3Yr SUS | 3 |
| KIT, MEMORY 32GB | |
| KIT, MEMORY 64GB | |
| KIT, EIGHT SFP+ | |
| HBA, 16GB/S DUAL FIBRE CH,PCI-E 3.0 X8 WITH SFP+ | |