It is the time of the year when people make merry with family and friends. As we get closer to ringing in the New Year, it is important to look back at the many challenges we faced and overcame in recent times. Especially in the world of IT, we have seen IT personnel having to support a largely remote workforce, administer the data center infrastructure from home, and working through budget constraints while managing surging resource demands.
If you are an IT manager/leader, consider spending your IT budget on something that your IT staff will greatly value and benefit from for years to come – and that is software-defined storage (SDS)! This blog will put forth four reasons why an SDS solution is the perfect gift that you can get for your IT team and organization at large.
#1 Spirit of Giving and Sharing
SDS is a technology that gives you back in kind in more ways than you expect. It is true that any new software is going to cost you money; the CAPEX or OPEX cost of acquiring the software and the hardware required to operate it. But the benefits and payback of SDS outweigh the initial investment you make. Capacity remains the most fleeting factor in data storage infrastructure. Your storage devices run out of space very quickly and you have to keep adding more hardware to expand capacity. SDS gives you a smarter way to solve your IT cost optimization problems, increasing the value of past investments and ensuring maximum benefit from future ones.
Centralized pooling of storage allows optimization of capacity usage across devices letting you break the barriers of siloed storage and take advantage of every byte of available capacity.
Sharing capacity and throughput across the storage pool benefit from collective performance and efficiency gains.
With the flexibility and agility to swap storage devices dynamically without causing disruption to your applications, you can modernize your expensive storage media with lesser-priced alternatives to reduce infrastructure costs.
#2 Spirit of Togetherness
Togetherness is what we strive to achieve in a society that boasts rich diversity. SDS brings the same paradigm to the multi-faceted and heterogeneous ensemble of flash and HDDs. Regardless of the storage hardware brand (Dell EMC, Fujitsu, Hitachi, HPE, Huawei, IBM, Lenovo, NetApp, Pure, etc.), family/series/model, deployment methodology, or access protocol, SDS brings diverse storage classes under a single command and control for centralized management and analytics. Utilizing the capability of storage virtualization, SDS abstracts and decouples data services from the underlying hardware. With a common framework of data services that are not confined to any single equipment and available across any storage system, SDS empowers you to design, manage, protect, and modernize your data storage infrastructure the way you want.
Celebrate the spirit of unity (of management) in diversity (of storage) this holiday season with a software-defined storage solution.
#3 Spirit of Gratitude
Every IT professional in your organization has put in phenomenal effort in the last year to ensure operational continuity of your business in the wake of many uncertainties. SDS can be your best gift that helps them simplify many of their repetitive data storage management tasks with the power of AI/ML-assisted automation. Whether it is determining which data (for example, hot/warm/cold) gets placed on which storage tier, or how data gets mirrored/replicated for data protection, SDS provides complete automation to make these processes touch-free.
Analytics is another important area without which IT administrators spend much time with diagnosing the cause of issues and the ways to troubleshoot them. SDS ships with predictive analytics and best practice recommendations to proactively resolve storage issues before they become business-impacting.
As an IT manager, show your gratitude to your IT employees with the gift of automation and analytics that software-defined storage delivers to simplify their daily lives for the better.
#4 Spirit of Hope and Optimism
Reflecting on the past and being thankful for the present, we must embrace the future with hope and optimism. While optimism as a general philosophy is much needed in today's trying times, in the data center world it needs to be backed up with the right strategies and tools to prepare for eventualities – storage downtime, site failure, unexpected disasters, and so on. Delayed actions to restore continuity after the occurrence of an incident will cost you dearly in the effort involved and loss of data.
SDS helps you to be prepared for any unforeseeable circumstances with automatic failover, re-synchronization, and failback capabilities across heterogenous systems. Synchronous mirroring and remote replication techniques help create copies of data from your main storage to a redundant storage on-premises, or to a DR location elsewhere (could even be in the cloud). In the event of storage failure or scheduled downtime, SDS fails over the connections to storage from the primary to standby storage. Once the primary storage is up and operational again, the connections are restored with the help of failback mechanism. Continuous data protection (CDP) is an additional capability available in an SDS solution that allows you to rewind back in time and undo an incident causing data corruption.
Add software-defined storage to your BC/DR strategy and let your IT teams tackle data recovery with renewed optimism.
DataCore: Keeping IT Spirits High and Soaring
DataCore is a pioneer and innovator of SDS solutions for block, file, and object storage environments. In today's world of explosive data growth, evolving workloads, and hybrid and distributed IT infrastructures, organizations are in need of a centralized and reliable means to store, access, manage and protect data. Trusted by over 10,000 deployments worldwide DataCore provides enterprise-class data services that simplify data storage management, reducing storage costs and improving performance and operational efficiency. There is not a better time than now to get DataCore SDS solutions – SANsymphony, Swarm, and Bolt – for your IT team. May your organization benefit from the wholesome goodness of software-defined storage.
Happy Holidays from DataCore!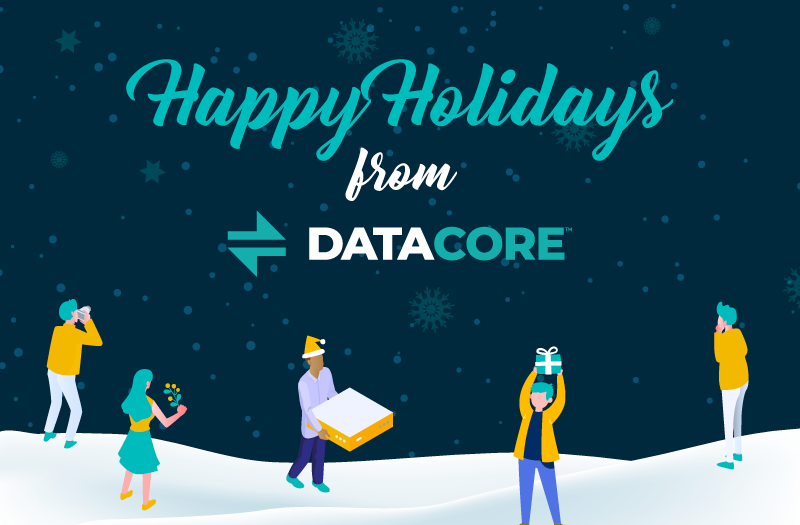 Helpful Resources